strategies
March 5, 2020
Entrepreneur and investor John Henry, who also hosted TV show 'Hustle' on Viceland, recently spoke with deBanked Chief Editor Sean Murray about his experience as a young successful entrepreneur (Q&A is below). Henry will be a special guest speaker at Broker Fair 2020 on May 18th in New York City. YOU WON'T WANT TO MISS IT!!!
—–
About John Henry
Voted to Forbes' 30 Under 30 and Ebony's Power 100 lists – John Henry is a Dominican-American entrepreneur and investor. Henry started his first business at 18, an on-demand dry cleaning service for the Film and TV industry in New York City, with clients such as The Wolf of Wall Street, Boardwalk Empire, Power, and more. Henry led the company through its acquisition in 2014 — founding and selling his first business by the age of 21. On the heels of his first win, Henry launched Cofound Harlem — a non-profit incubator that aims to foster a robust tech ecosystem North of 96th street in New York City. Cofound Harlem has launched numerous high-growth companies in Harlem, gaining recognition from Fast Company, TechCrunch, Business Insider, and more. He is a former Partner at Harlem Capital, a diversity-focused early stage venture capital firm on a mission to change the face of entrepreneurship. Henry is also the host of VICELAND's latest show, HUSTLE, which is Executive Produced by Alicia Keys and focused on helping scrappy entrepreneurs grow their business to the next level.
—–
Q (Sean Murray): You started your first business at 18 but what made you want to start one?
A (John Henry): It was driven by necessity more than a desire to be an entrepreneur, but I did exhibit some of the traits that pushed me towards that path. Entrepreneurs tend to have a history of non-conformity where there's no pre-chartered path and in an environment that demands conformity, anyone that likes to express their own views comes up against a lot of friction. So, for me it was necessity but also part of my character to do things differently.
Q: What kind of lessons did you learn from running a business at such a young age?
A: It's a serious game and it's full of responsibility. I was telling myself at one point that I was just 18 and so the struggles I faced running a business could be overlooked because of my age, but the world doesn't care how old you are. If you're running a business, there's no way around the responsibilities it demands.
The other thing is, when you come up against really tough situations, you need to be brave and have courage to go through those moments. I'm glad I had the courage in them. Once you take them head-on, you come out feeling better on the other side.
Q: As a former partner of a Venture Capital firm, what's the #1 mistake you saw entrepreneurs and business owners make?
A: You've got to have macro understanding and micro-chops. Everything is connected, it's not just knowing your business but knowing where you're situated in the economic or market cycle and understanding what customer sentiment is. That's what a lot of entrepreneurs miss. Like if your idea is to make a mobile app, that's great, but how many apps are already out there? How long have apps been part of the market already? What's going to make your app stand out from every other app? And this doesn't apply just to startups, but also existing companies. Every 3 months, you should be asking yourself the business question and evolve if necessary. The hardest part though is when your gut is telling you you're right but every other person out there is telling you you're wrong. And that's something you'll really have to figure out.
Q: Why has helping minority entrepreneurs and businesses been so important to you?
A: I'm not usually asked why, but I was seeing less and less minority representation among entrepreneurs that were receiving capital. There are some systemic factors that make it harder to get ahead but at the same time people can become inclusive to the point where they're becoming exclusive. So, I think it's about helping those that are on their way to overcoming tremendous odds to get far.
Q: Real estate, what can you tell me about your foray into that market?
A: I can say it's the best business that I have been in so far. Real estate is the #1 fundamental building block of wealth. When I first got into it, I was shocked that you could put down 20% and the bank would put in the other 80%. This is a game of physical assets and I'm glad I came across it when I did. I'm currently building a bedrock of business around real estate, my preference being residential multi-family apartments.
---
January 3, 2019
Wondering what to do about negative press? deBanked spoke to some Public Relations professionals about helpful techniques to manage the situation.
"When it comes to a negative story, we advise our clients to bridge back to something they are comfortable talking about," said Bill McCue, Executive Consultant at Indicate Media.
Bill McCue, Indicate media
McCue said this is known as "bridging."
"If you're asked a question about something you don't want to talk about for whatever reason, you can use transitional phrases like 'You know that's an interesting point, but what the real story here is…' or 'What we believe is truly the most important thing to talk about is…' And just keep bridging from a topic you're not comfortable addressing to a topic you are comfortable addressing."   
McCue noted that politicians and professional athletes are excellent at this. His favorite example is hockey players, who never talk about themselves. When they get a question about their own performance, they always "bridge" to something like the strength of another player or the coach or the entire team.
McCue also advises all clients, whether they're overcoming negative press or not, to speak in simple terms, and avoid jargon or acronyms.
"Never assume that the reporter is an expert on your industry," McCue said. "He or she might be writing about [multiple] topics throughout a given business day. Or they may have been writing about real estate last week and now they're writing about small business lending…So never assume a certain level of expertise."
Jason Geller, JMediaHouse
If your industry has gotten negative press, but your company in particular has not been targeted, Jason Geller, Founder of New York-based public relations firm JMediaHouse, said that no response is often the best response.
"Unless you have established clear goals and a message you must put out, or if the allegation is serious, the best response in most cases is nothing. Ignore it," Geller said. "Don't give the story life. By opting out you've robbed it of the oxygen it needs to continue on."
Geller also said that if the reporting contained inaccurate information, then the company must first provide the correct information to the reporter or blogger. This, he said, "opens up a great opportunity to leverage the situation and strengthen your relationship with the journalist, and to allow him or her to get to know your company and clients better."
If a given negative story is so bad that it truly warrants a response, Geller said that it's critical first to research the writer or blogger before responding.   
"What have they written about in the past? Do they have a history of putting out negative commentary? Have they had a bad experience with your product or brand? Once you have the answers to these questions, you'll be able put together a much more concise and educated response," Geller said.
April 18, 2013
Being my first post in the Small Business Corner, allow me to introduce myself. My name is Steve Ontiveros and I'm the founder of The Factoring Place. I'm good at finding the right factoring company for my clients based on their unique situations. Factoring and MCA really aren't that different. Each company seeking a merchant cash advance is unique, like each factoring client is unique. Not all merchant cash advance companies are alike, and similarly not all factoring companies offer the same program & factoring rate.  I became a factoring broker because I wanted to make sure my clients were getting the very best factoring deal for their unique situation.
Many factors lack the c-c-c-courage needed to fund a construction deal.  Preliminary & Mechanic's Liens, Payment & Performance Bonds, Progress Billing, and Retention, OH MY! Follow me along the "Yellow Brick Road" to mitigate the common risks of factoring construction deals.y factoring and merchant cash advance brokers turn down or walk away from construction companies seeking working capital. Factoring construction companies is a niche within a niche.  As a broker, understanding the inherent risks of construction factoring can help you find the right factoring firm that will successfully fund your client. Understanding how each factoring company operates is also important to knowing whether or not your client will get funded.
Actually, you don't have to live in the fantasy world of "Oz" to successfully navigate the unique risks found in a typical construction deal.  When you peel back the curtain inside the "Emerald City Factoring Company," you'll find that there are no wizards or wizardry going on at all.  But for this article, I'll be your Emerald City Factoring Company Wizard. I'll help you understand construction factoring giving you the confidence to walk the walk and get your construction client funded.
Construction Factoring 101: Preliminary Lien Notice & Mechanic's Liens
A Preliminary Lien Notice is a formal document sent by the contractor, sub contractor, material supplier, equipment lessor – and factoring company in some cases– to the owner of the project.  This "pre-lien" establishes the right to file a mechanic's lien later on down the road.  If the pre-lien is sent and the claimant's bill is paid, the pre-lien has no further legal effect.  However, if the bill is not paid then the claimant may now file a mechanic's lien on the owner's property.  An active mechanic's lien on a property ties that property up, leaving it in a position such that it cannot be sold or transferred to another party until the mechanic's lien is released.  Roughly 40 states in the US require a preliminary lien to be present before a mechanic's lien can be enforced–check the laws in your state to see where you stand.
The Emerald City Factoring Company often requires its construction clients to provide evidence of a pre-lien being sent to everyone up the food chain, including the owners.  In fact, Emerald City Factoring Company has been known to file a pre-lien of its own to further protect its position.  True, Emerald City Factoring Company is not a contractor, supplier, or equipment lessor.    But, because Emerald City Factoring Company has a blanket UCC1 on all assets of the client, the factor is indeed a supplier of material and equipment on the job.  Even if the General Contractor argues a factoring company has no legal standing to file a pre-lien, the owner doesn't care. The owner will simply tell the General Contractor to ensure all invoices are paid to all subcontractors so that the factoring company's pre-lien won't magically turn into a mechanic's lien.  Having the pre-lien in place allows the Emerald City Factoring Company to file a mechanic's lien if payment is not made, which means the Wizards running the show can sleep well at night.
Construction Factoring 102: Payment & Performance Bonds
Performance bonds are used in the construction industry as a tool for the owner of the property being developed to guarantee that the value of the work will not be lost in the case of an unfortunate event (such as insolvency of the contractor.)  A payment bond guarantees that the contractor will pay the labor and material costs they are obligated to.  Shoddy work, sub-standard materials, and corner-cutting put Emerald City Factor's factored invoices at risk, because if the owner throws your client off the job, the bonding company can step in and finish the job – and then back charges your factoring client.  It's unlikely that a bonding company will subordinate to the factoring company, and thus the factor's lien on the receivables may be primed by the big bad bonding company.
So, how do you prevent the Wicked Witch of the West coming through to spoil the party, kick your contractor off the job, and call in the bonding company to clean up the mess?  Unlike Dorothy, clicking your heels and repeating "there's no place like home" won't prevent the damage done by that under-performing contractor factoring client of yours.
Invite "Captain Obvious" to work for the Emerald City Factoring Company.  He's the guy that usually shows up after the disaster struck, and is rich with advice on what you should have done.  These are usually "DUH" moments but, in retrospect, they were so obvious and simple that you may have over looked them.  Here's what Captain Obvious has taught us over the years:

Have your contractor client share the bid file with you.  Go over each scope with a fine tooth comb.  Ask the contractor to tell you what % gross profit was built into each unique scope.  Use common sense to work out where the estimate may be wildly optimistic.  Is there enough gross profit in the estimate for them to have "oh crap" room?  More importantly, is there enough room in the estimate to cover the costs of your factoring services?
Ask about the job costing engine that the contractor is using.  Are they plugging in the job budget before the job starts, and then recording costs against the original budget?  Ask the contractor how long it takes for their AP accounting staff to enter job costs against each job.  The costs need to get added to the job cost engine almost immediately after they are incurred.
Ask to be shown a copy of a recent "over/under" billing report.  This report will show whether or not the job is hemorrhaging cash as the job is happening.   If the job is over-billed, the contractor is in a strong cash position on the job.  If it's under billed, it means the contractor has spent more on the job than they have yet to bill.  Running jobs under billed for too long is probably what brought the contractor to you in the first place, so don't be surprised to see this – just monitor it so that you know just how bad the situation might be.
If your contractor's eyes gloss over when you ask them about job budgets and job costing and over / under billing, then you might have a different sort of problem on your hand.  Without these tools in place, the contractor will have a tough time knowing whether or not he's profitable and whether or not he has the longevity to complete the job.  Yes, even with factoring company in place, there's no avoiding disaster when working with a contractor who doesn't watch his budgets.
Get a hard hat and a vest with fashionable fluorescent reflective tape.  Travel to the job site at least once a week to make sure progress is being made and to be visible to your client.  You're in luck if you have a pick-up truck and even better if you have a pick-up truck with a diesel fuel tank in the bed.  This way you can top off the heavy equipment on the job site so that they're ready for a full day's use tomorrow!
While at the job site, cozy up to the project manager / superintendent that is in charge of your client's performance.  He's usually the person who will approve or deny the progress billing requests.  Be up-front with him and tell him that you're the "money guy" behind your client.  Ask the project manager regularly about progress on the project.  Are there dicey issues that you can take up with your client to make the job run smoothly?
Be the guy that a) brings the donuts and coffee into the planning meetings and b) has a cooler full of sodas and snacks for the laborers.  Develop relationships with people on the job.  Not only are you looking after your investment, but you're sure to get "insider" information about the performance of your client.  Another added benefit to being on the job site consistently?  More clients.  As you're talking with the project manager, it'll be no secret what you do.  I can't tell you how many clients Emerald City Factors has earned as a result of job-site schmoozing.
Most of all, be useful on the job site, and then get out of there.  Bring lunch to the trades people.  Ask your questions.  Get invoice approvals.  Find out when the city / county inspector is coming to inspect your client's work (and be there for those inspections!)  Do no harm.
Require that your contractor provide you with weekly job cost reports.  Measure the actual job costs against the original job budgets.  If you start to see a budget getting to the end of its life, investigate.  Find out if there are change orders that you don't know about.  Maybe it's just job cost entry errors (costs being tagged to the wrong element of the job).  Don't accept your client's word for it when he tells you "I'm on time and under budget."  Expect that he's not, and verify with proof in the job cost / budget reports.
Construction Factoring 103: Progress Billing & Retention
The c-c-c-cowardly Lion will tell you that the contractual ability to off-set the cost of defects or repairs against previously approved billings is what prevents him from getting into the construction factoring game.  In other words, the Lion is afraid that even after the general contractor approves an invoice, somehow he or she can still legally refuse to pay any or all of the approved invoice.  This is typically when retention comes into play.  Retention is a process by which the general contractor will hold back usually 10% of a progress payment.  This 10% is not paid to the contractor until the end of the job, when all the punch list items are completed, and when the owner is satisfied with the material and workmanship.  Think of it as a "reserve" account of sorts.
Be sure you understand that a progress billing invoice may have retention – if so, don't advance against the full value of the invoice.  Gauge your advance based on the invoice amount AFTER retention is taken out.  Don't fund unless and until you get the general contractor to physically sign your approval letter.  Put language on your approval letter that says something to the effect of: "Invoice approved without offsets or deductions" and then pray that you don't ever have to defend that language – a costly adventure in the American Justice System!
Construction Factoring 104: Distance Makes the Heart Grow Fonder
Emerald City Factoring Company is located in the Heart of Oz.  Let's say that your construction client's project is all the way over in Kansas, so there is no chance that you or your wizard staff can visit the job site to protect your investment and market to others on the site.  In that case contract with a broker, or a construction manager, to visit the site on your behalf.  Get some eyes and ears on the ground at the job site, and be sure to review the budgets and job cost reports on a regular basis.  If you want to get really creative, partner up with a bookkeeper who is local to the construction client and job site.  Ask that your construction client consider using a chosen bookkeeper who knows how to manage construction job costing and billing.  You'll be singing the praises of Glinda, the Good Bookkeeping Witch of the North before you can say "there's no place like home, there's no place like home, there's no place like home."
The c-c-c-cowardly Lion gets Courage
It's always easier to get something done when you have a little bit of experience.  Dorothy didn't get home without taking a few calculated risks.  Consider funding a small deal, perhaps a spot factor on a small project will give you some practice but won't cause you to lose sleep.  You can learn the lingo of the contractor (and flatter your client) by asking questions about the business.  Or, consider working with non-competing factoring company who does construction and let them teach you the ropes.
Just watch, before long you'll be chanting in your sleep: "There's no factoring like construction factoring…"
Steve Ontiveros is the founder and president of The Factoring Place, Inc.  a privately held full service factoring brokerage firm specializing in construction factoring deals (including progress billing.)  He can be reached at steve@thefactoringplace.com or 510.223.1285
March 5, 2013
There are 4 major factors used to determine approvals in the merchant lending market:
• FICO Score / Credit Report history of owners
• Monthly Gross Revenue
• Time in Business
• Average Daily Bank Balance
Only 1 of these factors considers the applicant's reputation, and that's credit reports. Credit reports reveal past payment history with other creditors. They show lawsuits, unpaid taxes, and bankruptcies. Knowing whether an applicant pays on time or not is valuable to lenders but it fails to reveal an even more important metric, the business's ability to generate future profits. If you're shaking your head and saying "credit reports aren't for that purpose," I would respond by asking which of the 4 factors then is?
The amount of money deposited in someone's bank account in the past reveals how much they took in, but it doesn't indicate what will happen in the future. Similarly, a substantial daily ending bank balance may show responsibility to maintain a cash cushion, but it says nothing about how likely customers are to buy from that business in the future.
Could time in business then tell us? Is it safe to assume that a business that has been operational for a year, two years, or five years will be there for many more years to come? The local auto mechanic that's been around for 5 years may only have lasted because no one else has gotten around to opening up a rival auto shop. Would it be safe to give the most hated mechanic in town a three year loan when their success is simply the result of being the only auto mechanic in the community? There may be somewhat of a correlation between time in business and customer satisfaction but it is by no means strong enough to predict future success.
In effect, the major metrics used to judge small businesses for financing today take no consideration of the number one thing that matters to a business for survival, customers. Without customers, the amount deposited historically means nothing. Without customers, a 700 FICO score cannot produce sales, profits, or money to repay a loan. Without customers, a 50 year old restaurant can't continue to stay open just because it's been there for 50 years. And without customers you better hope that $1 million in sales last year made you really rich, since without customers, you're going to need to start a new business… preferably one WITH customers.
This doesn't mean that these 4 factors are irrelevant, they're not. But I believe these factors combined are but a tiny sliver of data to predict how well a business will do in the future and at the same time repay a loan. Relying on weak indicators forces lenders to charge higher rates since they must compensate for the risk of unknowns. It also decreases the length of time that lenders can trust their borrowers to hold their money for.
It is no surprise then that loan terms in the merchant lending industry only range from 3 to 12 months. None of the lenders are able to predict how their borrowers are going to do far into the future, so they bank on the odds that sales and deposits in the next few months will mimic sales and deposits in the last few months. That's also the reason why there are a lot of test/starter/trial funding rounds that are short to witness how a merchant "does" before funding additional capital on a longer term. Underwriters are flying blind. They have to see how you do because they have no data to suggest what will happen.
The big firms do have SOME data by now, but they're broad statistics that say a certain industry in a certain region is likely to perform X with a Y margin of error. Or FICO scores below 600 are likely to have a Z rate of default. Yet this data also ignores a business's reputation and relationship with its customers. It applies a blanket assumption of performance over the period of 3 to 12 months. These statistics are highly important to a lender because they can use them to predict defaults and delinquencies as a whole and enable them to set rates that will cover all of it and then some.
The owner of an ISO once asked me, "Wouldn't it be great if we got to the point where we were funding every business in America?" My answer was "No." If 10, 20, or 30% of those businesses failed to repay or eventually went out of business (and they would if you funded everyone) and the lender STILL made money, then the ones in good standing had to of gotten charged way too much. It would also mean that there had to be a portion of performing loans that were actually distressing the borrower, causing the capital they obtained to work against them, rather than for them. The goal shouldn't be to fund EVERYONE, but rather to fund the few that could truly benefit.
A great example of doing it wrong is Wonga, a UK based lender that accepted a 41% rate of bad debt in 2011 while still managing to reap £62.4 million in profit. If Wonga had a few hundred bucks, a few thousand bucks, or heck only a million, they'd probably be very careful about who they approved and why they approved them. But venture capital changes the game and not always in a positive way. Putting a few hundred million dollars in the hands of Wonga has caused them to become incredibly inefficient.
Why should they only fund 5,000 people through a highly comprehensive underwriting process when they can fund 30,000 people with a one-size fits all rate, ask no questions, and accept that they will burn a lot of their customers along the way? This is the question they must have asked themselves years ago. (You can read the founder's interview HERE)
At some point when they were developing their business model they had to admit that they really didn't care what the outcome would be for their borrowers, so long as the business made money. And so they created an algorithm that would statistically predict the rate of default based on weak indicators like demographics, how they answered a few questions, and credit score and the resulting delinquencies were just necessary casualties to make the system work. In essence, Wonga knows they will devastate a portion of their customers and accepts this. They're like a restaurant that only sells sugar frosted donut cheese ice cream to obese people and accepts that 41% of their revenues will be lost due to their customers dying. Can a lender truly be helping a community or economy where it intentionally hurts a percentage of borrowers because it's still profitable at the end of the day? Do their contests, soccer sponsorships, and positive messaging on social media make up for their disruption to the economy?
Wonga's mission is to grab market share, a strategy to make holy their blanket performance statistics and the rate that has to be charged to make money. Every single individual in the country becomes a candidate for their loans even though the lender will never know anything about the individual borrowers, their long term prospects, or what they can afford. The math says it doesn't matter because an acceptable amount of the loans will perform and applicants can either accept the high rate or get nothing.
How I portray Wonga is not what I think of the merchant lending market in the US but rather I believe they're a good example of the trap that merchant lenders COULD fall into if they come into too much money. When I first began to hear lenders fresh off a capital raise saying they wanted to fund the sh*t out of small business and would do anything in their power to fund as many deals as possible, I fear they could end up disrupting communities more than they could help them.
You know that thing called the Internet?
So I've talked a lot about what lenders don't know but nothing about what they can learn. There is an unbelievable amount of free data available on the web that can collectively be used as a strong indicator of future business performance. You know those all important customers I spoke about earlier? The ones that make a business a business? Well lucky for us, they seem to go online and offer feedback about their experiences. Yelp, Zagat, and Facebook come to mind.
How is a business REALLY doing? Reviews will tell you a lot so long as there are enough of them, and not just the star meter, but the actual written reviews. I assure you that it will help a lender if they see that the last 10 reviews say that the owner is a no good lying crook that stopped paying his employees and punched a customer just the other night. A business's whole reputation can't be assessed from paperwork and credit scores, but it can be by hearing from people in the local community. That community is online.
That brings me to another point here. If a small business isn't online, then no faith should be put in that small business in 2013. I don't know why there are still so many small businesses out there that don't use e-mail, don't have a website, and don't participate on social networks. Unless their shtick is that they are an Amish style operation striving for authenticity, then not being online should be an indicator that they do not care much about their long-term success. I would go so far as to say that any business that does not have at least a website, business fan page on Facebook, twitter account, or a reasonable substitute should be automatically declined for financing. Yeah, I said it!
In 2013, ignoring the Internet is like opening a store with no sign, boarding up the windows, and surrounding the front door with barbed wire. Sure, the locals might know you're there and be smart enough to come in the back door, and maybe they're enough to keep your business stable but no one else will find you and the ones that do, will see that you have no interest in being something more. You don't have to be on every social network but if you're not on any, you're doing something wrong. Ideally, you should be somewhat active with your customers online too. This doesn't mean sending each person that dined at a restaurant a Thank-You e-mail, but it does mean addressing complaints if there are any, posting announcements so customers can see them, and taking steps to improve your reputation.
There are many, many trust and reputation signals online. At the most recent TED Conference, Rachel Botsman talked about collaborative consumption, trust, and reputation. She believes that trust is the most vital currency in our economy, not the money in your bank account, but trust. I highly recommend you watch it below. You should definitely take notice of what may eventually become a reality, an individual's reputation scorecard, a report that aggregates reviews from everyone you've ever had an exchange with, and one that has the ability to evaluate the transactions which have the most meaning. My stellar e-bay seller record going back to 1999 might be on there (72 rave reviews baby!) but they won't be as important if you're looking to determine how credible I am as a business lending analyst. Still, in the grand scheme of reputation, they could have their place if someone wanted to gauge how trustworthy I am to deliver on something I agreed to.
Image above is from the video below
Release the darn data
You want to know who is holding out on making the merchant lending industry and American economy a better place? The North American Merchant Advance Association (NAMAA) is. NAMAA possesses a database of every merchant that has defaulted or gone delinquent with a funding member in the last 4 years. There's thousands of names in it. Not a member of NAMAA? You won't get to know if a merchant has tried some funny stuff with another funder or gone out of business while having an advance.
But you want to know who this private bank of data hurts most? It hurts every business and wholesaler these merchants work with in the future. A month after a retail store fraudulently skips out on a $100,000 advance, that same retailer could apply for 60 day terms with a supplier and sign a 5 year lease for a new business location. Don't that supplier and landlord deserve to know that their "awesome" new client has a reputation for committing theft and fraud as recent as 30 days ago? I think it's our duty to let them know. NAMAA is withholding information that could prevent a lot of unreputable people from doing further harm in local economies. Make this data public and we'll allow suppliers, landlords, and other lenders to make more informed decisions.
I've heard the argument that privacy can be a big selling point to borrowers. They don't necessarily want outsiders to know that they borrowed money or to suffer the shame if they don't pay it back. I can understand the benefits of privacy from a competitive standpoint for a borrower but it defies all logic and reason for a lender to keep a default under tight wraps. Public record of a default discourages borrowers from defaulting in the first place and is helpful to everyone that may interact with that borrower in some way in the future. How many merchants would reconsider signing on the dotted line for $50,000 if they knew a default meant the lender would personally message all of their fans on Facebook to tell them about it? Is this wrong? Is this any of the customers business? What if their customers were paying for services 12 weeks in advance? Would their customers have the same confidence that their service would be rendered knowing this new information? It is likely that some customers would view a default as a sign that the business cannot deliver on their promises and reconsider using them. By not letting them know, you are putting them all at risk of paying for services they might not get.
Even though everyone hates me, I project 300% growth!
Show an underwriter a chart of sales projections for the next two years and they'll have no idea if it's just wishful thinking. All the demographic research in the world won't convince the bank that people will trust your product. Show an underwriter that 50, 100, or a thousand people are saying positive things about their experience with you online, and they might believe you're on to something. Time in business, cash flow, profitability, and positive credit history show what someone did and what they have, but reputation and trust reveal what someone's success in the future will be like.
It's not just what they say about you
Your reputation goes beyond just what people are saying about you. At some point, you'll talk back and what you say can clue lenders into who you are and what you are doing. I've caught a few business announcements on Facebook that went something like "To our loyal customers, we are making a last ditch effort to get a merchant cash advance to pay off our landlord by Friday and keep the business open. If it does not happen, then we want to thank you all for your support over the years as we will close for good." Yeah, it's interesting to see things like this after you just had a 15 minute conversation with that same person that claimed the funds would be used for a marketing campaign.
With hundreds of millions of dollars burning a hole in their pocket, a lender may be tempted to take the Wonga approach. I guarantee Wonga would say I wasted my time by examining a business owner's social interactions. They'd say there were statistics and data that show they should fund that business anyway because the FICO score and sales volume are within their parameters, that defaults were acceptable and built into the numbers, and that funding as many businesses as fast as you can above a certain interest rate, is better than funding fewer businesses with more appropriate terms.
This is the premise of my inefficient merchant lending hypothesis for lenders that get real sloppy when they have too much money. Would you rather be a lender that charges more, funds more, and knows less about your borrowers or would you rather charge less, fund more intelligently, and know more about who you're funding? The first road accepts that you will outright devastate a percentage of your customers, disrupt local economies, and leave a bad taste in the mouth of a handful of people. It might be profitable, but could you really claim to be a helper of small business?
When you fund EVERYONE, businesses with bad reputations can knock out competitors with good reputations, the cost of debt can harm more than it helps, or lenders can get skinned alive by defaults they never saw coming. We need to be aware that there are consequences to backing a business with a bad reputation because it can allow them to squeeze out the guys that would've actually had the most positive impact on a community. The counter argument may be the theory by the philosopher Adam Smith, a gentleman famous for promoting economic principles such that the pursuit of self-interest promotes the good of society. By this standard, if it's good for the lender, then ultimately it must be good for the economy. However, allowing yourself to devastate a percentage of your customers isn't good for the lender's reputation even if it's profitable. In a sense, pursuing immediate profit doesn't mean pursuing ones self-interest. It may be months or years before enough unsatisfied borrowers begin to affect your reputation as a whole. Eventually, public opinion will sway. It's happening to Wonga right now. If a lender's business practices today could force them out of business in 5 years, then they are not pursuing their self-interest.
Real predictions, not just hoping tomorrow's financial standing will be the same as it was yesterday
I look forward to the day when a merchant lender announces a 3, 5, or 7 year program. Their underwriting analysis would have to be incredibly well thought out, but that's not a bad thing. Borrowers shouldn't be forced to choose between an 8 month loan and a 9 month loan because so few lenders are willing to make real long-term projections. A business might make good use of short term financing to pay for an aggressive marketing campaign, but the likelihood that they could "open a 2nd store" and pay back all of the money with interest in 4 months isn't very good.
My advice to the merchant lenders that are flexing their hundred million dollar muscles right now? Don't carpet bomb the entire country with loans and hope that a one-size fits all rate and term will have a positive impact on the economy. It won't. Writing off a portion of your customers today as collateral damage will hurt your reputation in the long run. Some businesses shouldn't be getting funded even if they have money in the bank and a history of revenue. Others can't sustain such short term repayments. These things should matter not just in the context of how much it will impact profits, but how much it will impact communities.
Incorporating factors like trust and reputation don't have to slow the application process down. There are technologies to help aggregate, sort, and make sense of these signals online. Automation and speed are good but the day that lenders stop caring about who they're funding and why they're funding them is the day that lending becomes inefficient. When it becomes purely a numbers game, we'll be in bubble territory. Can you think of any other industries where lenders stopped considering whether or not the loans were good for their borrowers and played the numbers? I'm sure you can 😉
Lend efficiently, be a good citizen, and don't be afraid to place a value on what customers are saying about your applicants.
– Merchant Processing Resource
https://debanked.com
MPR.mobi on iPhone, iPad, and Android
January 29, 2013
Here's an interesting trend: blog posts on the subject of the "decline" of social media. Within 90 seconds you can locate three such articles on Forbes.com:
3 Reasons You Should Quit Social Media In 2013
Facebook, Twitter? Can The Decline of Social Media Come Fast Enough?
Why I Dumped My Smartphone – 2 Months Into Building My Personal Innovation Lifestyle
OK, so three articles can't be considered a "trend" – but they definitely provide some food for thought.
Should You Quit Social Media in 2013?
The very notion that people are suggesting there might be value in at least "taking a break" from social media should get our attention. Take the three reasons J. Maureen Henderson gives in her article for doing so:
It harms your self-esteem
Your blood pressure will thank you
Online is no substitute for offline
Henderson is speaking to personal self-esteem and gives the example that there are those of us who might feel better about ourselves if we weren't constantly exposed to technology that forced us to compare ourselves to and compete with over-achieving peers. Yes, it can be personally humbling to discover the jerk you sat next to in biology graduated from Harvard when you barely made it out of State. Small business owners overdosing on social media just might have a similar problem trying to duplicate the social media activities of large competitors whose marketing budget is a big as their small businesses' net worth – which can be very discouraging and demotivating.
Personal social media activity definitely can get pretty ugly. Name calling, ostracizing, bullying and just generally disrespectful communications can certainly cause your blood pressure to rise. Small business owners can have a similar reaction to preserving and protecting their online brand reputation. While it's great to be able to communicate directly with customers and clients, the flip side is small business owners don't have total control over the conversation any longer. Even if you're monitoring your own platforms (for example comments on your business Facebook page), there's always the opportunity that you could be missing some "flaming" commentary about your business online somewhere out there on the Internet.
Henderson notes a study stating that one-quarter of those surveyed feel they haven't fully experienced real-life events due to activities necessary to place those real events on virtual social media platforms. She also points out that most people looking for a job do so online even though 70% of jobs are never posted online and are instead filled via in-person networking. Here is a lesson small business owners might want to take to heart – the impact, effectiveness, and value of getting in front of your customers and clients "in-person." Real customer experiences are as important as virtual customer experiences.
Are People Dumping Their Smartphones?
We could give you a ton of statistics, but the short answer is a definite NO. As a matter-of-fact, the trend now is major increases in consumers using mobile devices to stay connected online. Some people may be becoming less enamored with "traditional" social media – but we're definitely going to see an increase (at least for the foreseeable future) in the use of these devices according to a wide variety of studies by reliable resources such as Mashable.
The point is small business owners need to be aware that social media is constantly evolving (and most likely always will be evolving.) And that fact is both a blessing and a curse for small business owners. Certainly having new ways to effectively engage consumers along the "pathway to purchase" is a valuable opportunity. The threat can be not only keeping up with new technologies, but also the ways those technologies impact consumer behavior.
Even "expert advice" can be both confusing and in conflict. For example, here are two predictions in an article you can find at business2community.com:
Joey Sargent, Principal, BrandSprout Advisors: In 2013, we'll see more social maturity in both B2C and B2B applications. Business will get "social smarts" and more fully integrate social media into their day-to-day operations across the organization. This means less social for social's sake, and more focus on social media as a legitimate business tool to facilitate communication, engagement and loyalty.
Jayme Pretzloff, Online Marketing Director for Wixon Jewelers: Going into 2013 social media will impact sales more than any other metric because of the continued integration as a marketing platform and the acceptance of users to be marketed to. In 2011, almost 70% of users said that no social media platform influenced their buying decision and in 2012, that was cut in half to 35%. In 2013, this number will be decreased significantly again because these sites have become an integral way to gain access to information on companies, promotions and products.
Bill Corbett, Jr., President of Corbett Public Relations: The hype proliferated by "marketing" people about the tremendous business generating benefits of social media for small business will wind down.
Beverly Solomon, Creative Director at musee-solomon: People are over saturated with social media. They will gradually remove themselves from all but a few networks, blogs, etc. So many ads come in everyday that they have lost their impact. Most people just delete them before reading them. Social media will function more to alert friends of rip-offs than to encourage sales. Only the most clever sales campaigns will have any impact. More and more advertisers will be leaving social media and returning to snail mail, print and other traditional ads. Social media will continue to be a dating hook up, gossip fest and avenue for "gurus" to sell seminars. But real businesses will use social media less and less.
Who's Right?
With such conflicting advice from subject matter experts – how is a small business owner to know who to listen to? Fortunately this question is easy to answer: Listen to your customers and clients because they – and only they – know how they prefer to be contacted as well as what the content of those communications must be in order to be of value and meaningful to them. This means small business owners need to find out where their target market "hangs out." Are they already online and using social media? If so, how and where? If not, why not and what other ways would they like to hear from you?
The one constant advantage of social media is the ability to communicate with your market. But it is certainly not the only channel. As for our position on the matter? We're making social media a bigger priority. We've just gotten more involved on Google+, a social network that just passed twitter and youtube to be the 2nd most used platform in the world.

It might be time for the everyday small business owner to take a peek at the big G, especially if they feel like Facebook isn't delivering.
Guest Authored
– Merchant Processing Resource
https://debanked.com
MPR.mobi on iPhone, iPad, and Android
December 31, 2012
Every business wants to be found in search. To most, being found means top placement in Google's search results for keywords or phrases that are most likely to convert into a lead, sale, or customer. That begs the question… how does one get that top placement?
While many are now accusing Google of monopolizing or manipulating the search results to promote pages and products that earn them revenue, they are still unique in the sense that one simply cannot buy top placement in organic rankings. The Google search system was originally designed to rank pages based on both how many other pages linked to a page and how important those linking pages were. It was a relational system called PageRank that theoretically gave little guys a chance of being ranked alongside or even ahead of major corporations.
When it came to being talked about or linked to from other sites (these incoming links are called backlinks), mega corporations with large sums of money had a tremendous advantage. Media outlets seemed to always be linking to them naturally and they could buy linking ads on websites that didn't. They could even buy backlinks on irrelevant pages just to up the ante. In 2011, Overstock.com was penalized by Google after one such linking scheme was discovered. Overstock was offering discounts to students and faculty that placed a link to their website on a school web page ending with .edu. It was believed that .edu top level domains (TLDs) carried far more weight than .com, .net, and .org. Overstock tried to capitalize on that.
Where a company ranks in the result listings can mean the difference between success and failure. For the mega corporations, millions of dollars in revenue can be gained by being listed 1st as opposed to 4th. The reality is that searchers tend to click on top results more often, ultimately leading to more sales for the companies that rank well.
According to a study conducted by Slingshot SEO, the top search result is clicked 18.2% of the time, whereas the last result (#10 on the page) is selected 1% of the time. These statistics make a few things clear. If you're not on the first page, you might as well be in outer space. Additionally, a ranking on the first page must be for a search term or phrase that is frequently searched. Sure, we're happy to be listed 4th for the search phrase "greatest merchant cash advance company in the world," since it links to our free directory of verified MCA providers, but since no one is using that search phrase, it really doesn't matter.
A hypothetical business does research and determines that 100 people per month are entering this phrase into the Google search bar: "I want a merchant cash advance this minute." It looks promising because it shows that the end user is in buying mode. One could make the case that they are more likely to apply for business financing than a user searching for "the history of merchant cash advance." 100 searches for the initial phrase might seem like an opportunity, but you have to make an effort to achieve a listing for that keyword, at least that's what Search Engine Optimization (SEO) gurus will tell you.
All Hail the King
Since Google is the omnipotent dictator that determines where every website falls, there is nothing that can 100% guarantee a website will be visible for the terms and phrases a webmaster wants. There is no shortage of tips, methods, and tricks to boost the odds but all of those things require time, money, or both. Neither will get the webmaster far unless the Search Engine Optimizer (SEOer) knows how to modify a website, analyze search phrases, and implement a strategy to increase rankings. If the SEOer isn't tech savvy, stay away.
The SEOer's strategy will likely fall into one of two categories, white hat or black hat, but it's important to note that wearing any kind of hat is technically a violation of Google's Terms of Use. It's easy to label an SEOer that places thousands of irrelevant comments with a backlink on blogs all over the Internet as a black hatter. But contrast that technique with a white hatter that does nothing more than write interesting articles and get them published on other websites with a backlink.
The latter may seem innocuous, but both attempt to manipulate Google's algorithm and can lead to serious ranking devaluation penalties. A penalty can be crippling for a business that depends on acquiring leads or customers online. Worse yet, the webmaster is not tried before a jury of his/her peers before being sentenced to page infinity for all search terms. This is the downside of the playing field Google creates. John Doe business owner can be listed alongside multi-million dollar corporations and can enjoy that visibility to grow into a million dollar business themselves. But if it is Google that brought him into this world, it is Google that can take him out.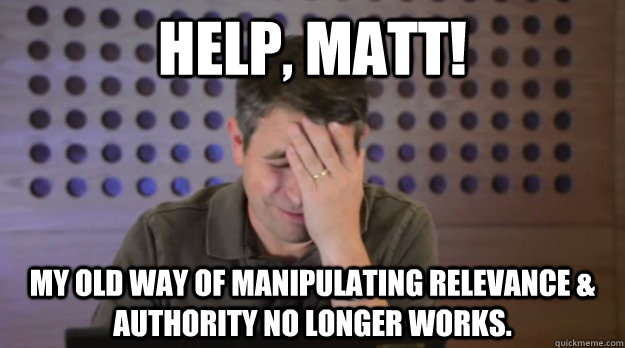 In late April, 2012 Google announced they were cracking down on "blog networks." This algorithm update became known as Google Penguin and hit the web like a hammer. 3.1% of all english search queries were affected. Penalized webmasters that paid to have self-written articles published on other websites to get the link juice were left wondering how the practice could be a violation. Analogies were used to explain that paying to promote oneself is standard business practice. They likened article marketing to the basic trade of journalism. They argued it was their constitutional right to promote articles without fearing the total loss of business or retribution from Google.
Watch the latest details about Google Penguin (2.0)
Google's position though is that it is perfectly okay to link to a friend's website or to pay to have articles placed elsewhere. They respect that those decisions are not theirs to judge in respect to the global Internet. However, if the intent (or perceived intent!) of these practices is to achieve higher ranking in Google's search results, then they reserve the right to protect the integrity of their ranking system accordingly. Essentially, anyone can do what they want, but it might affect how things are scored within their private system. So if you don't care about your valuation in Google, you can use all the linking schemes in the world if you so choose. The problem is that most people do care about their score in Google and many people view Google as the global Internet. Google can argue that they are simply policing their own private system but to millions of web users around the world, they are viewed as policing the Internet.
The Revolution
It's not their fault. Google's system was so good and their interface so simple, that millions of people started using it and never went back. They became the Internet. Search engines existed previously but had many flaws. Back then, millions of websites that provided answers to questions or sold solutions for problems went undiscovered to the vast majority of humanity. Google found them, ranked them, and then went on to check them frequently to make sure users were still likely to find what they wanted.
They made the world a better place until the laws of their kingdom began to contradict common sense. For example, it would seem practical for a video game company to buy a banner ad on a video game enthusiast web forum. They could benefit from the targeted traffic and hopefully sell some video games. But at the same time, Google might view this banner link as an attempt to manipulate their algorithm.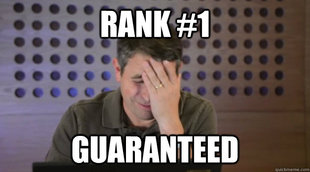 To resolve this dilemma, Google created a tagging system to allow their search crawlers to identify which links were paid for and then direct their algorithm to make sure the buyers did not benefit in search from them. This directive was controversial because it forced webmasters that cared about their rankings to worry about the nature of their outbound links. Could a website selling banner ads hurt both the buyer and the seller at the same time? They sure could. If buying and selling backlinks is forbidden, then both parties have something to worry about. Today, it is important to include the rel="nofollow" attribute in html coded links that are paid for.
Since the majority of web users use Google in some way, the challenge and effort to achieve better placement has become a billion dollar industry. Prestigious advertising firms claim they can improve search placement using white hat guidelines Google itself created. The fact remains that there is no way to be safe, no matter how prestigious, knowledgeable, expensive, or innocuous the SEOer is. Having a page on a website that discusses a topic that another page on the same website already talks about can be grounds for a penalty. Interlinking your pages too much can be grounds for a penalty, discussing too many broad topics can be grounds for a penalty. Writing with imperfect english can be grounds for a penalty. Mentioning your product or service too many times in an article or throughout your website can be grounds for a penalty. Not using enough visual aids such as images or videos can be grounds for a penalty. Adding new content to the website too frequently can be grounds for a penalty.
Everybody's Doing it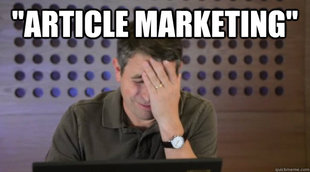 Smart webmasters approach the web like their health. Do everything in moderation. It seems like every year there is a study that proves a correlation between a daily household food item with a certain untimely death. We've all heard something like this before: "The study determined that people that eat less than 2 carrots a day are more likely to die before the age of 70 than people that eat 2 or more carrots per day." It's the kind of fear mongering that causes someone to worry obsessively about meeting the 2 carrot daily minimum only to get hit by a bus as they cross the street three decades before they turn 70. Webmasters can spend their days worried about how Google will view them and ultimately never be found by their potential customers or they can do what everyone else does and work on getting backlinks and add content to their websites.
Is a compliant website that is never found by customers better than a website that has a good run, makes a lot of money, but takes the risk of getting penalized in the end? Some believe it is better to have loved and lost than to have never loved at all. Afterall, an online business that has no web visitors is not really a business is it?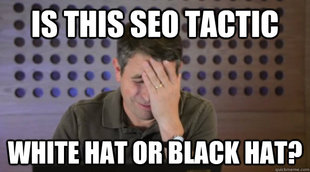 White hatters, the SEOers that wrongly believe they are immune from repercussions argue that their strategies take far longer to create results because they are in it for the long haul. Coincidentally, these long-haul strategies tend to have a high monthly price, do not guarantee results, and cannot predict what changes Google will make in the future. For example, if an SEOer says their slow and steady method will take 6-12 months, the webmaster should understand that the ranking algorithm could change in 5 months. All the work performed could be rendered obsolete in the blink of an eye or worse, devalue the ranking further from where it was originally.
In the quest for a quick fix or even as part of a long-term strategy, SEOers can't help but notice that websites maintained by news media seem immune to all the rules. They republish countless amounts of duplicate news reports and they buy and sell exposure like its going out of style. In a way, they are a multiplied version of everything Google says not to do. But while they might get tons of traffic from search engines, they are not entirely dependent on them. Big news media has incredible brand name recognition. An individual seeking information about the Fiscal Cliff may simply type "CNN.com" in the browser address bar and bypass Google altogether.
Companies like Reuters, The Wall Street Journal, Fox, and CNN, etc. are highly authoritative and could be categorized as the holy grail of backlinks. If one of the major ranking factors is the importance of the website the link is on, then there is nothing more important than being mentioned by national mainstream news media. The media outlets know the perceived value of their links and are hungry to find new streams of revenue. Thus, an opportunity presented itself to them just as printed newspapers began going the way of the dinosaur. And so they began to peddle link juice.
The age of buying links is not dead and it is now much more difficult for Google to punish the parties involved. Webmasters can pay public relations firms to get a "company press release" published on big news media sites and get the backlink of course. This tactic has been around for years but it has become one of the last great bastions for white hat SEO. Others would argue that social media is the next frontier but for SEOers grinding it out in the trenches, traditional backlinks seem to work better above all else.
Many public relations firms have been warned by Google not to promote the backlinking aspect of their service, but all of them offer some kind of SEO package to target webmasters that are interested in using their service for the purpose of link juice. Searchengineland.com ran a great article that exposed what the press release as SEO tactic revolution has done to the news. (http://searchengineland.com/how-prweb-helps-distribute-crap-into-google-news-sites-140597)
Image from Search Engine Land
There is now a surge in boring, irrelevant, and oftentimes non-sensical company announcements on big media sites across the Internet. It is a popular SEO method in many fields, making it difficult to find actual industry news amongst the clutter of backlink driven stories.
But if it works, then why stop? That of course implies that it works in the first place. Several days ago, Matt Cutts, the director of Webspam at Google informed inquisitive webmasters that links in these press release articles DON'T COUNT. Helpful SEOers explained to the original poster that most links in press releases have the no-follow attribute added to the links to make sure that they don't pass juice. Upon our own examination however, we couldn't find any news media or public relations firm that implements no-follow. It would probably hurt their bottom line if the junk releases they were peddling suddenly didn't count for anything.
The debate rages on about whether or not the director of Webspam is to be trusted. Is the ranking algorithm as powerful as Google claims it is? Or are they spreading fear and misinformation to make up for their shortcomings? There is a lot of interesting feedback to consider in the comments section of seroundtable's short article regarding press releases.
In the past, many webmasters have used obvious black hat techniques for favorable placement and gotten burned in the end. Many innocent websites have been caught in the crossfire. Success on the Internet is believed by many to be achieved only by being visible on Google.
The War
Individuals that have never managed a business website in their life have little idea how Google works. They know it will provide them with the answers they're looking for and rank them in order from best to worst. To everyday users it is nothing short of magic. To an SEOer, being #1 for a search term may mean weeks, months, or years of trial, error, and patience. It requires time, money, or both. It is a tireless quest to become #1 or to die trying. It is the difference between getting 18.2% of visitors for a keyword searched 5,000,000 times a month or 1% of visitors for a keyword searched 100 times a month. It is a battle against not only Google, but against competitors in the same field that are using the same tricks to move up. It is a system that gives little guys a chance to be ranked alongside major corporations. It is way to be found in the sea of a trillion websites. But it is also a dictatorship. Google can sneak into your house in the middle of the night and banish you to page 50 with the accusation that you were buying backlinks. Google can lock the front door of your virtual store to prevent shoppers from getting in. Google can label non-native English speakers as spammmers and silence those that won't stop writing about the same thing over and over again. This is the challenge with a single company being tasked with policing the entire Internet.
The Perks

There are alternatives out there like Bing and Yahoo, but the problem is that when people go to those sites, they tend to type Bing or Yahoo into Google just to get there. Such is the habit these days for getting anywhere on the web. In 2008, blogger Marshall Kirkpatrick wrote about this phenomenon. He argued that mainstream users of the Internet do not even know how to navigate it. While tons of responders to the article seem to agree, there are plenty of folks that make a compelling case as to why using a search engine is superior to a browser's address bar.
It isn't easy typing https://debanked.com perfectly if you're a fast typer, which might explain why a significant portion of our visitors type this url into Google instead. They want to get to the right place the first time even if they type it in wrong. They might not even be exactly sure what our website is called or how to spell it. It's not uncommon to see incorrect urls somehow end up in our traffic reports anyway.
Merchant Processing Esource
Merchant Processing Source
Merchant Processing Resources
Merchant Proccesing Resource (2 Cs or 1s)
Merchant Processor Resource
The list of mistakes continues, but Google points them in the right direction anyway. If this didn't happen, we might seriously consider rebranding the site with a much shorter domain name. Unfortunately, in mid-2010 when Merchant Processing Resource started, we didn't give much thought to the difficulty in remembering a 7-syllable name, nor the likelihood of miskeying a single character in a 34 character address (www.merchantprocessingresource.com). This shove in the right direction is a benefit that an address bar can't offer.
Not Evil?
The user oriented focus of Google arguably ended once and for all on May 19, 2010, the day they went public. While #6 on the list of Google's official philosophy is that "You can make money without doing evil," shareholders may have qualms with #1. It states, "Focus on the the user and all else will follow." This motto doesn't scream maximum profit. Besides, being public doesn't allow Google to focus on the user, but instead tasks them with increasing the value of their stock. Of course they can't earn a profit if they disregard the users altogether and so they are faced with the challenge of maximizing profit without alienating their users.
Adhering to their own philosophy is tricky, not to mention that many state and national governments believe that Google is manipulating the results to promote their own products. Products? one might ask; What possible products does Google have? Oh you mean you haven't heard of Maps/Earth, Youtube, Zagat, Google Reviews, Google Plus, Gmail, Blogger, Picasa, Google Wallet, Translate, the Droid OS, driverless cars, the Chrome web browser, or the many other products they control?
Google isn't content with just controlling search. They want to control the entire Internet experience. Companies like Facebook threaten that monopoly and as such Google has made social networking a top priority to counter them. Not evil?
The Google universe is exhausting. Webmasters must do more than just design great websites to continue enjoying the luxury of being found. Paid links must be marked as no-follow, backlinks on bad websites must be disavowed, private pages must be marked as no-index, similar or duplicate content must be avoided, URLs must be descriptive, title tags should be relevant, HTML should be used over Flash, and moved pages should be redirected if for no other reason than to retain the page value of the original URL.
Is There Life After Dea.err…Google?
As we draw near our conclusion, we argue that Google continues to play a large role in Internet Marketing, but advise that Google is not the Internet, no matter how much you've come to believe otherwise. There is LinkedIn, Facebook, Twitter, web forums, blogs, email newsletters, and a zillion other places to promote oneself and be found. Too many people fail to utilize the infinite other opportunities to market themselves online simply because they believe ranking in Google is the only way or because they've received a penalty and give up. "Getting ranked" has become an all consuming challenge that blinds webmasters from their true goal of attracting customers. People bought products and services online before Google came around. They might make things easier for the average user that believes search results are a product of magic, but in reality they are just one of many systems to find things. They are an imperfect ecosystem that has become tainted by their motivation for profit. And let's not forget the millions of white hatters and black hatters that are driving the algorithm wild as they seek better placement for themselves or their clients.
Do we care about Google? Certainly, but only about half of our visitors originate from the search engine. People actually see us mentioned on LinkedIn, Facebook, and actual trade publications. And guess what? Those people visit us, bookmark us, and return. There may come a day when Google decides too many incoming links from Facebook is grounds for a penalty, causing outrage among webmasters, a move that might force many to give the social network up, and even disavow it officially. White hatters could end up having to eat their white hats down the road. The whole system of the Internet will no longer seem to make any sense. Maybe a reality check is okay. Perhaps too many hours and megabytes are wasted on trying to gain favor with Google. So much junk exists out there these days that isn't even meant to be read or followed, but rather exists for the sole purpose of gaining link juice. If a poorly designed website in China links to a good website in the U.S., should the webmaster have to spend time tracking it down, identifying it, and disavowing it just to appease the king? Does this make any sense?
The next time you spend $300-$500 on a press release with carefully crafted link text, think about whether or not Google is really going to reward you with placement for a search term. Their director of Webspam says you're not going to score any points, yet you may believe otherwise. Consider how else that money could be spent online outside the context of Google SEO. Are you looking to attract customers or simply gain favor with a king that MIGHT lead to customers? Imagine for a minute that Google, Bing, and Yahoo have banished you from being found forever. Would you close up shop or start to think outside the box?
White hatters that read this may be mumbling to themselves that they need not think this way because they have a surefire strategy that works, something along the lines of "Content is King." This "Content" revolution involves publishing tons of articles to ones website to give the impression to Google that a website is constantly being updated with helpful information. An SEOer will tell you that Google "wants" this. In reality though, this has created a new phenomenon, the practice of webmasters spamming their own websites. The content may be informative, well written, and on-topic but if it's being done to please Google instead of making sales or helping visitors, then it's really nothing more than the black hat trick of the day. "Content is King," that is until it's not because 100 million websites are doing the same thing, leading to a vast pile of junk in cyberspace.
People forget that the word 'marketing' exists in Internet Marketing. They focus their time and effort on Internet Manipulation. They either have systems to make a quick buck or they slowly march onwards towards a promise that can't be kept. As we approach 2013, it remains true that Google can't be ignored, but the rest of the global Internet shouldn't be either. There are billions of people out there that are looking for what you offer and you need to learn how to reach them. Coincidentally, there are 100 million articles on the web that claim they can teach this very trade. 99 million of them exist for the purpose of getting a backlink. That means the information is questionable at best. Take a marketing course, read a marketing book, or hire a marketing consultant. Go back to the basics if you must. Plan for the day where you won't exist in search even though your business exists in real life. If the moment comes where Google replaces the search results with only paid advertisements or you get penalized because you told all of your friends to link to your website, you can shrug it off. If you want to be in Internet Marketing for the long haul, stop thinking about search. Google can't be your only web strategy forever.
– Merchant Processing Resource
https://debanked.com
Find tons of great Matt Cutts memes here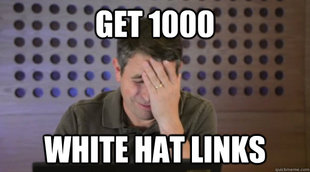 You should also check out
November 11, 2012
Many small business owners may have thrown out the newspaper with the bath water when it comes to using print media as a marketing and promotion channel for their small business. Number one, most of us are pretty much convinced that print media is dead. Major newspapers that have been around for eons are dead or dying. Print magazines are failing or subscriptions are woefully down. On top of that there are literally hundreds of thousands of online social media specialists and bloggers out there tooting the digital horn not as "the way of the future" – but telling us that the future is now. Any small business owner out there not engaging in social media marketing isn't only missing the boat, they're on a sinking ship.
However, small business owners might want to take a second, and much closer, look at whether or not investing in print media still represents an opportunity to achieve a high rate of return for their particular business.

Print Media Can Hit Your Target
The most obvious example is a small local business owner. A business owner who serves a local community with distinct boundaries is targeting consumers and clients within that local jurisdiction. That local community may be at the neighborhood, small town, or even large municipal area. What is common to all local businesses is that oftentimes print media exists that provides a relatively low cost vehicle to promote their small business.
For example, small business owners in small towns are likely to get a pretty big bang for their buck promoting their business in their local small town newspaper. Many of these small town papers provide what could be classified as "hard journalism" reporting on local political and other town issues such as city budget and the like. However, a major focus in small town newspapers tends to be human interest articles that attract local readers. In turn, those articles attract specific types of readers.
For instance, often there will be a column dedicated to subjects such as gardening, cooking, local events, the environmental, the arts, books, and so on. Because the paper is so small, many local newspapers provide a greater opportunity to locate your ad near copy that relates to your small business, or that is read by people you've targeted as your most optimal customers or clients. If you're a local hardware store, an ad located near the gardening article can be very effective. If you're a local podiatrist or retail store selling running shoes, an ad near an article about a local 10K is a great opportunity. Most neighborhood and municipal newspapers offer this type or similar opportunities for ad placement.

Loyalty and Numbers Matter
Regarding reach of your small businesses' ad, local print media can be a better option than promoting your local small business online. For one, many of these publications already have a very loyal readership. Any small business owner with even a modicum of experience creating an online presence can appreciate just how much effort, time, and (yes) money goes into creating a strong, loyal, and large following online. While social media is low cost, it isn't "no cost." Even if you're not outsourcing social media activities (i.e. content creation, posting, replying, etc.) – you are paying a huge premium in time.
Equally important is that print advertising in many ways isn't as limited as social media. You can get a whole lot more information in an ad in your local newspaper than an online banner ad. Additionally, advertising in your printed local publication can actually create more credibility for your small business. Consumers understand that print advertising comes at a cost and tend to assign credibility to businesses using print advertising. Consumers are savvy and know online banner ads can come pretty cheap – a print ad can effectively communicate your small business is both established and reliable.
Ironically, we're going to provide you with the best argument for taking a second look at promoting and marketing your small business using print media with an online example. On their "About" page here is how one community paper describes themselves:
The College Park Community Paper has been in circulation since 1989. We are a monthly, full color, family friendly newspaper delivering the good news happening in College Park each month. The paper is delivered free of charge by mail to over 7,000 homes and businesses in the 32804 zip code which includes College Park and the Country Club of Orlando. Additional distribution is provided throughout the community and commercial district through the use of newspaper stands and counter top display. Additional exposure is garnered through our website which includes additional material not shown in the print edition.
You'll also want to take a look at their ad rates here, but we use them as an example for quite another reason: they provide an excellent example of a small business integrating both on and offline channels to promote their small business, which can be not only a balanced approach, but an approach that provides the biggest bang for your buck.
– Merchant Processing Resource
https://debanked.com
November 8, 2012
The election is over and now it seems we will be "Moving forward, not back." The republicans that have already come to accept Romney's defeat are sounding a lot like Sookie Stackhouse:

Onwards we go to help the little guy, a process many feel can't happen until we end trickle-down economics. It's the trickle part that doesn't sound good. Money should flow freely gosh darn it, not trickle! We couldn't agree more. Here's a broad diagram of the economy at work:
It's popular to hate Wall Street, but Wall Street provides small businesses with financing to expand, who in turn employ more people in the process. Wall Street is not just banks and Merchant Cash Advance companies. It is any party that has enough money to invest in others while being able to absorb potential losses. A private investor is Wall Street. Wealthy friends or family members are Wall Street.
Tax these parties more and there is less money to invest in small businesses which means fewer businesses will receive capital to expand and hire. Wall Street will make less money as a result of less money being invested and therefore tax revenue will decrease. With fewer businesses hiring, less people will be employed and therefore less people will be paying taxes. Taxing Wall Street more does not necessarily mean more net tax dollars.
This Darn Trickle
One can dislike the economic chain since the flow of money between parties may not happen perfectly or because it allows Wall Street to get richer. There is nothing wrong with the rich getting richer, so long as the middle class and poor get richer too. If small businesses use the money invested by Wall Street wisely, they too will eventually become Wall Street. The amount of new jobs created as a result of a small business's success means more wage earners will have a shot at becoming small businesses. In economics, a wide divide between rich and poor can be positive, for it creates a ladder that anyone can climb with no cap.
Empower the Little Guy
There is a competing theory and that is to believe that the economic chain starts with middle class wage earners. One could argue to significantly lower taxes on the middle class and the poor and impose much higher taxes on the rich. By doing so, consumers would have more money to spend at small businesses, prompting those small businesses to draw up plans to expand. That expansion capital still needs to come from somewhere and less of it will be there if Wall Street has been further taxed. Perhaps a small business could save money for a few years and use their savings to self-finance their own expansion. Under this theory, everyone becomes part of a very broad middle class. The extremes disappear.
Whoops
When the extremes disappear, there will be few investors with the capability to make large investments or investments that are particularly risky. A small business owner could save up for several years and open a 2nd location without an investment, but could he open 200 nationwide? Not without Wall Street. How many jobs will be created by the opening of 1 store? How many would be created by the opening of 200?
Now calculate how much new tax revenue is generated in each scenario, as well as the number of people that move up from being poor and unemployed to middle class and employed.
When the rich aren't getting richer, the other classes can't really move up either. Everyone stays in a broad middle class and innovation and advancements decline. The consumer or small business owner with a potential $100 million innovative idea won't be able to raise the capital to see it through. How can they when the rich have been prevented from becoming really rich? What if they had a $10 billion idea?
One could argue as a single class society, that a $100 million idea or $10 billion idea could be financed by the government. This is true. It is also textbook state socialism. A one class society is also the premise of Marxism, where everyone is getting their needs met through cooperative work.
Marxism ignores the realities of a global economy. Ultimately, Americans need to obtain resources from other nations, and stay ahead technologically so as not to be conquered by outside forces. A classless society is a stale society, with no economic movement, social movement, or technological advancements.
How will the Merchant Cash Advance Market be Affected?
Merchant Cash Advance companies typically invest in businesses with less than 50 employees. Under Obamacare, any business with less than 50 employees does NOT HAVE to provide health insurance. This program may not affect the business as a whole, but the law mandates that all individuals purchase health insurance for themselves if they don't have coverage already. Small business owners in the MCA market may be incrementally stressed by having to purchase health insurance. Their employees will be further stressed by having to buy it as well. As a result, wages may need to go up to help workers pay for their own insurance and less money will be available to grow and hire.
The total public debt outstanding has exceeded $16 trillion. That debt has to be paid for somehow and it is more likely than ever that Wall Street is going to have to pay up. This will not stimulate growth and as such, the economy is not likely to pick up any time soon.
Traditional lenders are going to remain quiet while the alternative lenders are going to power through it. A business could save up for three years and open a 2nd location or it could open it today with a Merchant Cash Advance. In three years, the location they want may no longer be available and that individual looking for a job will have run out of unemployment benefits long ago.
A Merchant Cash Advance helps small businesses expand today, hire today, generate more tax revenue for the government today, and helps everyone move up the economic ladder. Baby steps are better than none at all. What starts with a 2nd location may lead to a dream of owning 200 locations nationwide. They'll need a bigger fish than MCA to get there. Let's make sure we don't tax those fish to death.
What do you think Michael?

Forward!
– Merchant Processing Resource
https://debanked.com