February 21, 2020
A
Maryland State Senator and 4 State Delegates are calling for a prohibition on merchant cash advances through a bill introduced this month that aims to make it illegal to arrange, facilitate or consummate a merchant cash advance with a merchant in the state.
Maryland State Senate Bill 913 and House Bill 1478, literally headlined as Merchant Cash Advance Prohibition, defines a merchant cash advance as:
AN ARRANGEMENT BETWEEN A BUYER AND A SELLER IN WHICH THE BUYER AGREES TO PURCHASE AN AGREED–ON PERCENTAGE OF FUTURE CREDIT CARD REVENUES OR DEBIT CARD REVENUES THAT ARE DUE TO A SELLER FOR A PREDETERMINED PURCHASE PRICE
If all went to plan, the law would go into effect as early as October 1st of this year. Support at this early stage is bipartisan, with the Senate Bill sponsored by a Democrat and the House bill sponsored by 4 republicans. Hearings on the matter are being held on March 2nd and 3rd.
February 20, 2020
Patreon, the membership platform that provides payment and subscription services for creators, will now start funding those artists that are on its site through Patreon Capital. Said to be modeled after Shopify Capital, the service will be available to certain creators initially, with Patreon reaching out directly to them to offer merchant cash advances.
The move comes after CEO Jack Conte had been quoted in January saying that "The reality is Patreon needs to build new businesses and new services and new revenue lines in order to build a sustainable business."
It seems like this new service is part of a trend that has overtaken tech companies recently, best exemplified by the Apple Card, wherein established players, worried about longevity, are moving further into financial services, hoping to get long-lasting hooks into their customers.
Historically, Patreon has made money by taking a 5% cut from the subscription payments made to artists on its platform, with a further 5% going towards covering transaction fees, and the remaining 90% being left for the artist, who retains complete ownership of their work. It currently has over 100,000 creators on its site and over three million active monthly users. Contributions begin at $1, with content being unlocked in exchange for payment. Thus far, Patreon has paid out over $1 billion.
It has been reported that about a dozen deals have been made between creators and Patreon Capital so far. Hot Pod News ran a story featuring one such case, in which Multitude, a Brooklyn-based podcast studio, disclosed that it took funding of $75,000 over two years in order to pay the SAG-AFTRA rates of the actors it wanted to employ for a new audio sitcom titled Next Stop.
"We were running into this problem where we have a ton of great ideas, but because we're a small business, we constantly have to decide between putting money towards paying our people and getting more equipment versus saving it up for a bigger project," Multitude's CEO, Amanda McLoughlin, told Hot Pod.
The premium attached to the financing was not revealed, however Multitude did note that the revenues of one of the studio's other shows, Join the Party, would be taken as collateral if Next Stop is not profitable enough to pay the premium after two years.
"This arrangement is directly tied to the fact that we have successful podcasts making money on Patreon, and that we've already invested in the Patreon system to pay this stuff back," comment Eric Silver, Multitude's Head of Creative, underlining how Patreon Capital is linked with the analytics of Patreon's base service. Much like how Amazon uses sales metrics and user data to gauge which retailers to lend to on its own marketplace, Patreon appears to be making use of seven years of data on its creators to determine who is best positioned to receive funding.
"Patreon has access to all the data about a creator's earnings history, what they offer as benefits, how much they engage with their patrons … everything needed to forecast their earnings and retention, without a creator even needing to submit an application." Patreon VP of Finance Carlos Cabrero stated. "This would be essentially impossible for a bank to replicate."
February 6, 2020
deBanked's parent company has acquired 100% of DailyFunder. I was a co-founder of the online forum that launched in 2012 and had remained a partner in it until recently when I had the opportunity to acquire the remainder of the company's shares.
What does this mean for DailyFunder?
DailyFunder will remain an independent entity and website, and it will continue to keep its trademark name. Its concept, a message board for business finance professionals, will fit nicely into our ecosystem. Our full ownership of DailyFunder will allow us to provide the site with updates, fixes, and improved moderation. Some changes to the site may be implemented over the next several weeks and months.
More than 16,000 threads and 129,000 posts have been published on the forum since inception, a testament to the value that such a site provides to the unique community it fosters. DailyFunder has nearly 10,000 registered members. Discussion on the site originally centered around merchant cash advance but has since evolved to all types of commercial finance.
If you're one of the men and women who fund daily, well then I hope to see you on the DailyFunder!
If you have a technical question or moderation issue, please email: webmaster@dailyfunder.com. If you have an advertising question, please email me at: sean@dailyfunder.com. Please bear with us as our team gets acclimated to the new change.
February 5, 2020
CAN Capital is continuing its executive hiring spree into 2020 with the news that it has brought on Edward Dietz as its latest Chief Compliance Officer and General Counsel. After providing legal expertise to Marlin Business Services Corporation for nine years and working as an associate for two law firms in Wisconsin and Pennsylvania previous to this, Dietz will oversee CAN's compliance with all federal and state lending, banking, and securities laws.
"Having worked with Ed and knowing his skill set and the many intangibles that he brings to CAN, I feel fortunate that he's leading our legal and compliance efforts," noted CEO Edward Siciliano in a statement. "Ed's just what we needed as we position CAN for growth and to lead a new era of small business lending."
Having graduated from the University of Michigan Law School in 2004, Dietz has nearly two decades of legal experience.
Speaking on the news, Dietz said that he "could not be more excited to join a company and a team that believes so deeply that its people and its culture are the keys to harnessing the company's growth potential."
February 3, 2020
Liberis, the London-based small business finance provider, secured £32 million ($42 million) in capital late last month following a round of equity fundraising. The firm, which has funded businesses through cash advances since 2007, has now raised a total of over £150 million ($197 million) via debt and equity.
Having already entered Nordic markets, Liberis looks to use this funding to further expand into Europe as well as make their mark in America. Speaking to deBanked, Liberis CEO Rob Straathof explained that the company would be working with its North American partner, Worldpay, to spread itself across all 50 states. Beyond Worldpay, Liberis is planning to create more partnerships with merchant acquirers, those payment platforms which serve merchants, or "SME champions," as Straathof calls them.
Liberis will not be using brokers to provide cash advances to business owners in the States, the reason being that the company prefers to work with its affiliated partners. "We purely rely on our partners and integrating with our partners," explained Straathof. "In the UK we still do brokers, but that's kind of a legacy. It works very well for us and we have a great relationship with brokers. It's a good channel for us, but we have no intention at this point to launch that in the US."
The company will also use the funding to increase its staff by 30% in 2020, hiring around 50 people to bolster its 165-person workforce across their four offices in London, Dublin, Stockholm, and Denver.
February 1, 2020
On January 29th, 2020 the Appellate Division, 2nd Department, of the Supreme Court of New York, upheld the original decision issued in Merchant Funding Services, LLC v Micromanos, etc. et al.. The case concerns a Confession of Judgment (COJ) filed following Micromanos' default on a merchant cash advance contract. The defendants sought to vacate the COJ on the basis that the underlying agreement was allegedly a criminally usurious loan but the original judge ruled in favor of the plaintiffs.
The case was so notable that deBanked published a summary of the decision three years ago. Of particular interest is that the defendants not only lost but were accused by the judge of attempting to mislead the Court. Despite that, the defendants appealed.
The defendants have now lost again. The underlying case law they had relied on to support their arguments, Volunteer Pharmacy, was overturned the same day this decision was issued, leaving little room to wonder why the Appellate Division ruled accordingly.
January 29, 2020
Merchant Cash Advances have sat on comfortable legal footing in New York ever since an appellate court ruled in favor of Pearl Beta Funding, LLC against Champion Auto Sales, LLC in 2018, but even so, it hasn't stopped lawyers from trying to invalidate merchant cash advance (MCA) contracts on behalf of aggrieved customers.
That's because an MCA provided by New York-based Merchant Funding Services LLC to a business known as Volunteer Pharmacy in 2016 was ruled by New York Supreme Court Judge David F Everett to be so "criminally usurious on its face" that the normal process required to vacate a Confession of Judgment could simply be bypassed without even having to evaluate the merits of each side's arguments and the matter automatically won in favor of Volunteer Pharmacy. The judge's written decision, which voided the MCA contract ab initio, was replete with a scathing opinion of MFS's business model.
The decision quietly stunned the merchant cash advance industry. MFS understandably appealed.
Dozens of lawsuits against MCA companies in the ensuing years went on to cite Judge Everett's decision in Volunteer Pharmacy with limited success. And while the industry sat around to find out what would happen in that case, Pearl Beta Funding, a rival to Merchant Funding Services, won an appeal of its own, the landmark usury case in March 2018 that seemingly solidified once and for all the commonly held understanding that such MCA agreements were not usurious.
Despite this, the uncertainty of Volunteer Pharmacy still lingered in the background, that is until now.
On January 29th, 2020 the Appellate Division, 2nd Department, of the Supreme Court of New York, overturned Judge Everett's decision and ruled in favor of Merchant Funding Services. The panel of judges said they need not even weigh a lot of Everett's contentions because he was wrong on the underlying procedural issue, that a judgment by confession could be vacated in such an instance without having to go through the normal legal process.
The ruling ultimately provides clarity on the process that determines how a judgment by confession can be vacated. One major impact is that lawyers seeking to invalidate merchant cash advance agreements will no longer have Volunteer Pharmacy as a crutch to rely on.
January 25, 2020
News from North Texas this month as Dallas-based Sprout Funding announced its acquisition of Jet Capital. The move comes as Sprout seeks to expand its technical operations.
"Sprout built a reputation as a group that funds a lot of its own internal deals, and Jet had spent a lot of time, energy, and money on their tech platforms," Sprout's CEO and Founder Brad Woy told deBanked. "So while we were really good on the sales and marketing side, they seemed to be a little bit more advanced in their tech and reporting, and we brought those two things together."
Almost all of Jet's employees will be joining Sprout, with the exception of one person who chose to go their separate way following the merger.
Jet's COO Allan Thompson spoke kindly of the purchase, saying in a statement that "There is a great cultural alignment in addition to the obvious benefits of combining our technology, processes and people. The result will provide increased capabilities for Sprout and opportunity for all of our customers and partners."
The financial terms of the acquisition were not disclosed.
January 21, 2020
View a selection of deBanked CONNECT MIAMI photos here
View every official deBanked CONNECT MIAMI 2020 photo on facebook
---
Ready for deBanked's biggest event of the year? Broker Fair returns to New York City on May 18th
REGISTER NOW BEFORE EARLY BIRD PRICING EXPIRES
December 27, 2019
Above: The Design Tower on Grand Canal Quay in Dublin, home of GRID Finance's headquarters
Five years ago, a small company in Dublin put Ireland's fintech scene on the map by advising local SMEs to "get on the GRID." GRID Finance, founded by Derek F Butler, introduced a peer-to-peer lending model to Irish businesses at a time when the industry was just beginning to form. From the beginning, the company's secret sauce was the GRID Score, a proprietary credit score system that enabled the company to take on the difficult task of assessing the risk of SMEs.
Butler, who I sat down with in September at the company's headquarters alongside Chief Marketing Officer Andrea Linehan, says the GRID Score is an SME's "passport to the economy."
It's the upper tier that GRID caters to while providing a unique product within Ireland known as a cash advance. The setup is similar to Square and PayPal in the US in that the loans are repaid via a percentage of an SME's credit/debit card transactions on a daily basis. The term of the loan is fixed and the costs are reasonable.
"The reality is that small business funding and financing is a high risk," Linehan says.
"There's no subprime market here," Butler adds. "We're trying to build a prime cash advance market versus a subprime one in the US."
Like GRID's competitors in the industry, Linehan believes that finance in Ireland will transition online. "Ireland is still dominated by two banks," she says, referring to Bank of Ireland and AIB. The company, therefore, believes it has a good head start on the impending shift. But in the meantime, they've learned how important it is to be embedded in the local communities. To that end, GRID has an office in Limerick, Ireland's third largest city with 95,000 people that's located about 200km away from its headquarters in Silicon Docks.
And their mission goes beyond providing funds. "If we can help get [SMEs] ready by giving them the tips to improve their financial health right now, let's try and do that," Butler says. "We want them to understand their financial health versus their cost of capital."
While the company has sustained modest growth, Business Post reported earlier this month that GRID plans to raise €100 million in 2020 to provide even more loans through its platform.
Butler likens GRID's mission to the MetLife Foundation, promoting financial health and building stronger communities. "We do a lot of work with the MetLife foundation because of the impact they have," he says. "It's why I launched GRID Finance."
December 26, 2019
As we count down the end of the decade, I thought you might want to take a glimpse of how the decade started here at deBanked. Below is a snapshot of the main merchant cash info page that was on our site in December 2010!
CLICK HERE FOR A CLEARER IMAGE
When 2010 ended, I published the following predictions for 2011:
Businesses will increasingly face pressure on past due taxes and as a consequence would face smaller funding offers with higher costs.
Credit card processors will venture into funding their own clients rather than rely on 3rd party MCA companies.
Brokers will increasingly begin to fund their own deals.
Increasing competition will create downward pressure on costs.
It will become harder for desperate businesses to obtain funds from anywhere, including MCAs.
Might some of that be true of the recent years?????
December 23, 2019
A new study on transparency conducted by the Federal Reserve on non-bank small business finance providers indicates that borrowers are not driven by costs or disclosures. The #1 reason for a business to apply with an online lender was the speed of the process, the study showed. #2 was the likelihood of being funded. Cost ranked near the bottom of the list.
While a focus group pointed out many areas that are ripe for improvement, the Fed was left to conclude that "clearer information—in the form of standardized disclosures—will not necessarily alter the decisions of some small business borrowers about whether and where to obtain financing."
The Fed further commented that some loan applicants revealed that they had already "committed the expected loan proceeds" before a lender could even present rates and terms. Others borrowers wished they could know their approved rate and terms before even providing a lender with any data. These findings seem to undermine the potential value of enhanced uniformity in disclosures.
The report, which attempts to paint a bleak picture of online lending in spite of the data, seems to validate what online lenders have been saying all along, that speed is supreme. Even where transparency is lacking, it cannot be overstated that big banks scored lower on transparency than online lenders did.
Uncertain Terms: What Small Business Borrowers Find When Browsing Online Lender Websites evaluated BFS Capital, CAN Capital, Credibly, Fundation, Funding Circle, Kabbage, Lending Club, National Funding, OnDeck, Rapid Finance, PayPal Working Capital, and Square Capital.
December 19, 2019
DEBANKED CONNECT MIAMI IS BACK

Get inspired by Brian Holloway's Total Market Domination, find out how much your company is worth, and learn how to make the dough from the pros in 2020.
Still need a ticket? Register here!
Meet The Sponsors – Form Relationships
Get deals done, sign up a new vendor, network and more at deBanked CONNECT MIAMI on January 16, 2020
JAN 16, 2020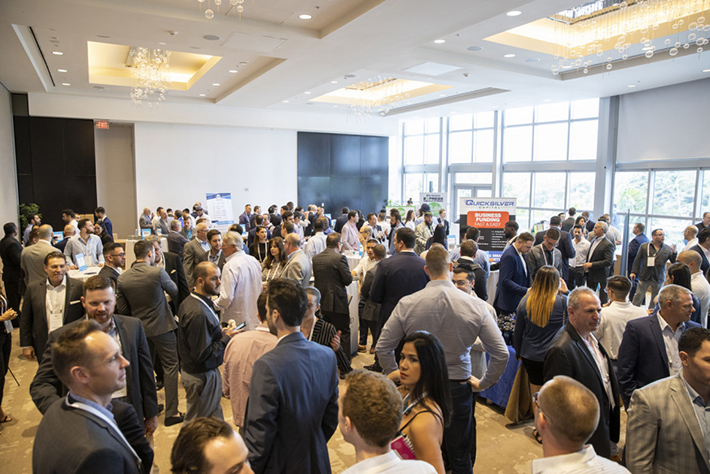 Questions? Email: Events@debanked.com
917-722-0808
THANKS TO OUR AMAZING SPONSORS
TITLE SPONSOR

SPONSORS