Online Lending APR 'SMART Box' To Apply To Loans, Not Merchant Cash Advances
OnDeck, Kabbage and CAN Capital have launched an initiative to make online loan shopping easier. Dubbed the SMART (Straightforward Metrics Around Rate and Total Cost) Box, these lenders plan to present small businesses "with a chart of standardized pricing comparison tools and explanations, including various total dollar cost and annual percentage rate metrics that enable a comprehensive pricing comparison of loans of equivalent duration."
The Box, clearly meant to increase transparency, was explained in an ironically confusing way, particularly where it said it would include annual percentage rate metrics. An Annual Percentage Rate (APR) is indeed a representation of several metrics and thus it wasn't clear if the Box would just include some of these individual metrics and conveniently leave out the APR itself.
OnDeck CEO Noah Breslow for example told Forbes only six months ago that annual terms don't make sense. "The APR overstates the actual cost of the loan to the borrower," he said. He was not alone in thinking that way. Several studies have concluded too that merchants don't always even know what APR represents. Lendio for example, found that two-thirds of small businesses selected the total dollar cost of a loan as the easiest to understand. Only 17.4% said the APR was the easiest.
And there's another thing, the fact that CAN doesn't just do loans, they also do a significant amount of merchant cash advances. What role could an APR have there? While the Box's final system won't be decided until after the conclusion of a 90-day national engagement period that begins next month, one can only imagine that it might have a Schumer Boxer feel to it.
A Schumer Box explained: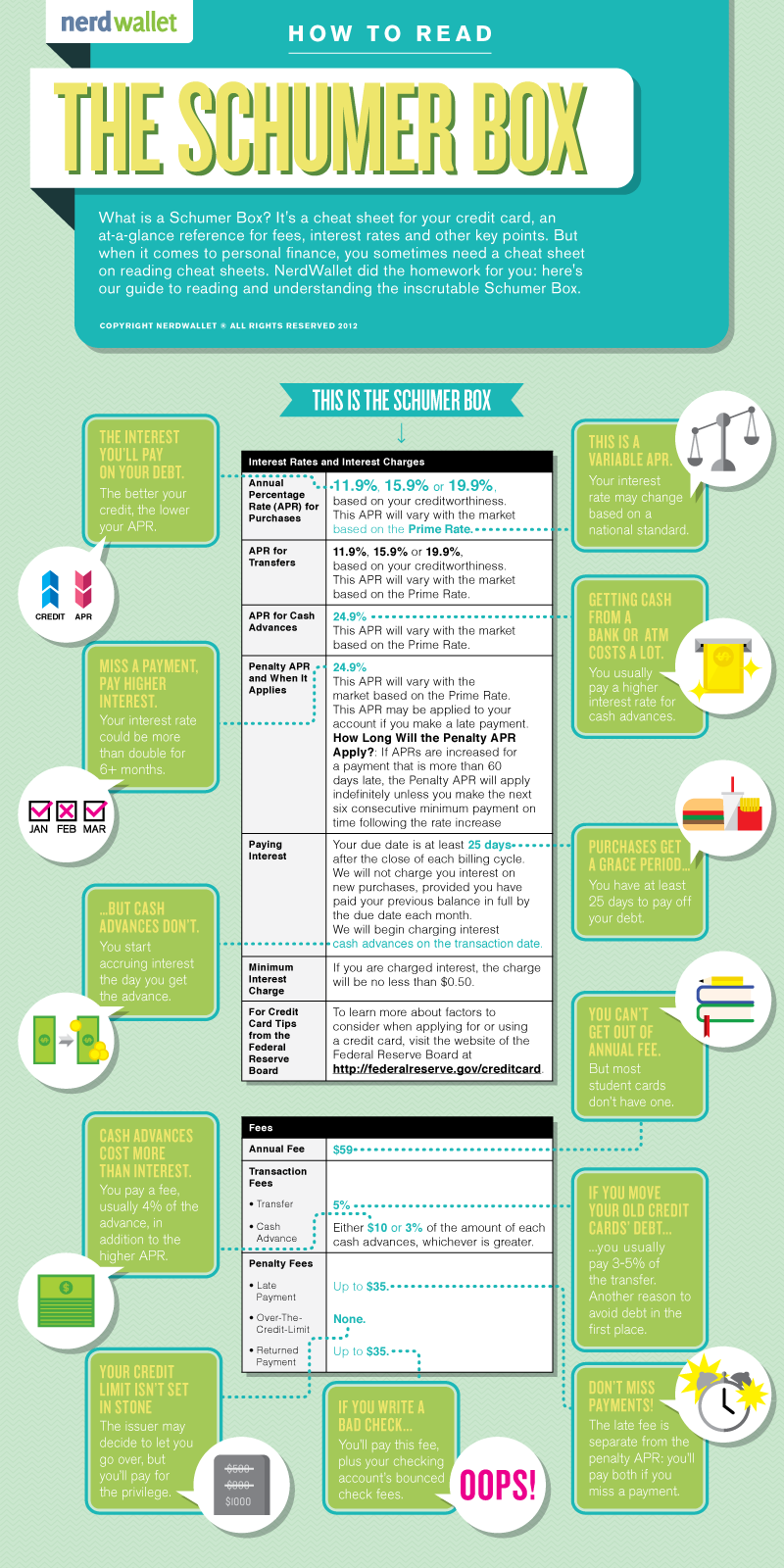 Via: NerdWallet
The syntactic ambiguity in the announcement however was unintentional. A spokesperson for the group (Known as the Innovative Lending Platform Association) said that the SMART Box will indeed include Annual Percentage Rates.
But that's where loans are concerned…
When deBanked asked about merchant cash advances, Daniel Gorfine, vice president and associate general counsel of OnDeck; Parris Sanz, Chief Legal Officer of CAN Capital and Azba Habib, assistant general counsel of Kabbage, submitted the following joint response:
"As part of the SMART Box initiative, we are interested in engaging with providers of MCA products. Based on consistent assumptions about a small business's future sales volumes and its ability to deliver the contracted amount of receivables within the period of time estimated during underwriting, the SMART Box could apply to MCA products."
So long as SMART Box disclosure is voluntary, an MCA company could perhaps employ their own version of it. It just might come sans APR given the product's history with state regulations. The Association is emphatic however that this concept could be used by MCA companies and others in the small business financing space. After all, the initiative is rooted in transparency for the small business owner, they say.
In September, the Association "will encourage those interested in promoting the responsible development of the small business lending industry to voluntarily adopt or support the model disclosure."
Given the level of influence these companies have on the industry, the voluntary nature of the SMART Box has the potential to spark an industry-wide box revolution. MCA companies however would need to structure transparent disclosure around their contractual frameworks. But even that could be a good thing. One commercial financing broker for example, posted a redacted service fee agreement to the DailyFunder forum earlier this week that purported to show another broker trying to charge a merchant a 26% premium (26% of the funding amount) for their work. Despite this unusually high cost, the charge itself was hard to find, hidden among fine print on an otherwise benign looking page. Naturally, others in the industry did not respond kindly to it. Even other brokers referred to it as "outrageous," "nonsense," or "bs."
Their reactions make clear that there is a desire for transparency even among the group most often blamed for the lack thereof. Some of the industry's forward thinkers have told deBanked that a system like a SMART Box is the future of the industry whether one agrees with it or not. And if not for the sake of small businesses and regulators, then for the sake of being able to compete fairly against companies that may be relying on truly hidden fees.
SMART Box. All aboard the transparency train?
Last modified:

May 6, 2016
---
Sean Murray is the President and Chief Editor of deBanked and the founder of the Broker Fair Conference. Connect with me on LinkedIn or follow me on twitter. You can view all future deBanked events here.