Small Business Lending Faces Extinction
Small Business Lending is about to drop even further. It has to. Today's 512 point kick to the groin was less about fear of the future and more about the issues we've been unwilling to acknowledge in the past. Let's not water down the facts:
The economy is not growing.
There is no recovery.
There is no improvement.
That is it. There's been far too many "growth is slow but…" rationalizations in which dismal results are chalked off as seasonal, aberrational blips, just because they don't fit in line with our delusions of recovery. We all saw today coming, let's not kid ourselves.  See our evidence:

Seasonally Adjusted Weekly First Time Unemployment Insurance Claims:
Figures that fall below 400,000 are considered to be conducive to hiring and growth.
3/26/2011    392,000
4/02/2011    385,000
4/09/2011    416,000
4/16/2011    404,000
4/23/2011    431,000
4/30/2011    478,000
5/07/2011    438,000
5/14/2011    414,000
5/21/2011    429,000
5/28/2011    426,000
6/04/2011    430,000
6/11/2011    420,000
6/18/2011    429,000
6/25/2011    432,000
7/02/2011    427,000
7/09/2011    408,000
Source: Department of Labor http://www.dol.gov/opa/media/press/eta/ui/current.htm
News outlets have published more recent figures, with the data indicating claims above 400,000 for each of the last three weeks of July. Seventeen straight horrible weeks show no signs of improvement in the job market.
Small Business Loans Drop by $15 Billion in Q1
Greece Has 100% Chance of Default
http://blogs.wsj.com/source/2011/06/20/greece-will-default-but-not-yet
GDP is Shrinking
Rate of GDP growth is declining. The first quarter was dangerously close to a recession.
SOURCE: http://www.bea.gov/iTable/iTable.cfm?ReqID=9&step=1
U.S. Still at Risk for Debt Downgrade
http://www.reuters.com/article/2011/08/03/us-markets-forex-downgrade-idUSTRE7725ZK20110803
Food Stamp Use Rises to Record 45.8 Million
"Nearly 15% of the U.S. population relied on food stamps in May, according to the United States Department of Agriculture."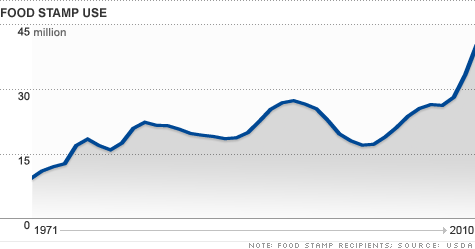 ADDITIONAL INFORMATION: http://money.cnn.com/2011/08/04/pf/food_stamps_record_high/index.htm

Stock Market Experiences Ninth Worst Single Day Drop in History on August 4th, 2011
SOURCE: CNN Money
———
Where is the good news? There isn't any. For the first time in a long time, the media isn't able to keep up the recovery lie any longer. And the Federal Reservce is powerless to help. Interest rates have been kept near 0% for the past couple years and the $14,000,000,000,000+ deficit hinders their ability to issue more stimulus. Yikes!
Small business lending has been on the decline for awhile but the lack of fear in the market has kept the dirt tucked under the rug. Bankers were under the impression that there was a recovery in motion and now that they've become aware otherwise, it's about to get really ugly.

To illustrate what's already happening, a friend of ours manages the retail underwriting department for a large national bank. He spoke to us under the condition of anonymity and had this to say about their recent shift in policies:
"We are still lending but we're using a '1:1 cash collateral rule'. What that means is, if a business wants to borrow $100,000 they must already have at least $100,000 in cash or cash equivalents on their books. The cash itself isn't the collateral, it's just a prerequisite to ensure they are especially equipped for a future cash-flow crisis. $100,000 of real collateral is still required but at this point we don't ever want to be put in the situation where we're chasing down a borrower to sell off their assets. Our loans don't yield nearly enough to survive even just one default. People always joke that banks won't lend unless the borrower doesn't need the money. Now we won't lend unless you already have the money!"
And so we're entering a dark age, a slow approach back into a recession that we never actually came out of. There's no reason to think that this will cause banks to increase lending and it is highly doubtful that it will remain at its current levels.
=====================
TOP 3 MOST ENDANGERED SPECIES:
Ivory-billed Woodpecker
Amur Leopard
*Small Business Loans
* Recently added. These poor creatures need your help!
=====================
So what's the prognosis? The Merchant Cash Advance industry may soon have it's so-called 'Moment', but not because the small business community demands it, but because there won't be anything else left…
– The Merchant Cash Advance Resource
Last modified:

April 20, 2019
---
Sean Murray is the President and Chief Editor of deBanked and the founder of the Broker Fair Conference. Connect with me on LinkedIn or follow me on twitter. You can view all future deBanked events here.