PREMIUM MERCHANT FUNDING
This is a search result page
---
---
Related Headlines
Potential Match Found in deBanked UCC Filer list
| | | | | | | |
| --- | --- | --- | --- | --- | --- | --- |
| Company Name | Phone number | UCC Alias 1 | Alias 2 | Alias 3 | Alias 4 | Alias 5 |
| Premium Merchant Funding One, LLC | 646-780-8720 | Premium Merchant Funding | | | | |
---
Stories
May 5, 2016
OnDeck, Kabbage and CAN Capital have launched an initiative to make online loan shopping easier. Dubbed the SMART (Straightforward Metrics Around Rate and Total Cost) Box, these lenders plan to present small businesses "with a chart of standardized pricing comparison tools and explanations, including various total dollar cost and annual percentage rate metrics that enable a comprehensive pricing comparison of loans of equivalent duration."
The Box, clearly meant to increase transparency, was explained in an ironically confusing way, particularly where it said it would include annual percentage rate metrics. An Annual Percentage Rate (APR) is indeed a representation of several metrics and thus it wasn't clear if the Box would just include some of these individual metrics and conveniently leave out the APR itself.
OnDeck CEO Noah Breslow for example told Forbes only six months ago that annual terms don't make sense. "The APR overstates the actual cost of the loan to the borrower," he said. He was not alone in thinking that way. Several studies have concluded too that merchants don't always even know what APR represents. Lendio for example, found that two-thirds of small businesses selected the total dollar cost of a loan as the easiest to understand. Only 17.4% said the APR was the easiest.
And there's another thing, the fact that CAN doesn't just do loans, they also do a significant amount of merchant cash advances. What role could an APR have there? While the Box's final system won't be decided until after the conclusion of a 90-day national engagement period that begins next month, one can only imagine that it might have a Schumer Boxer feel to it.
A Schumer Box explained: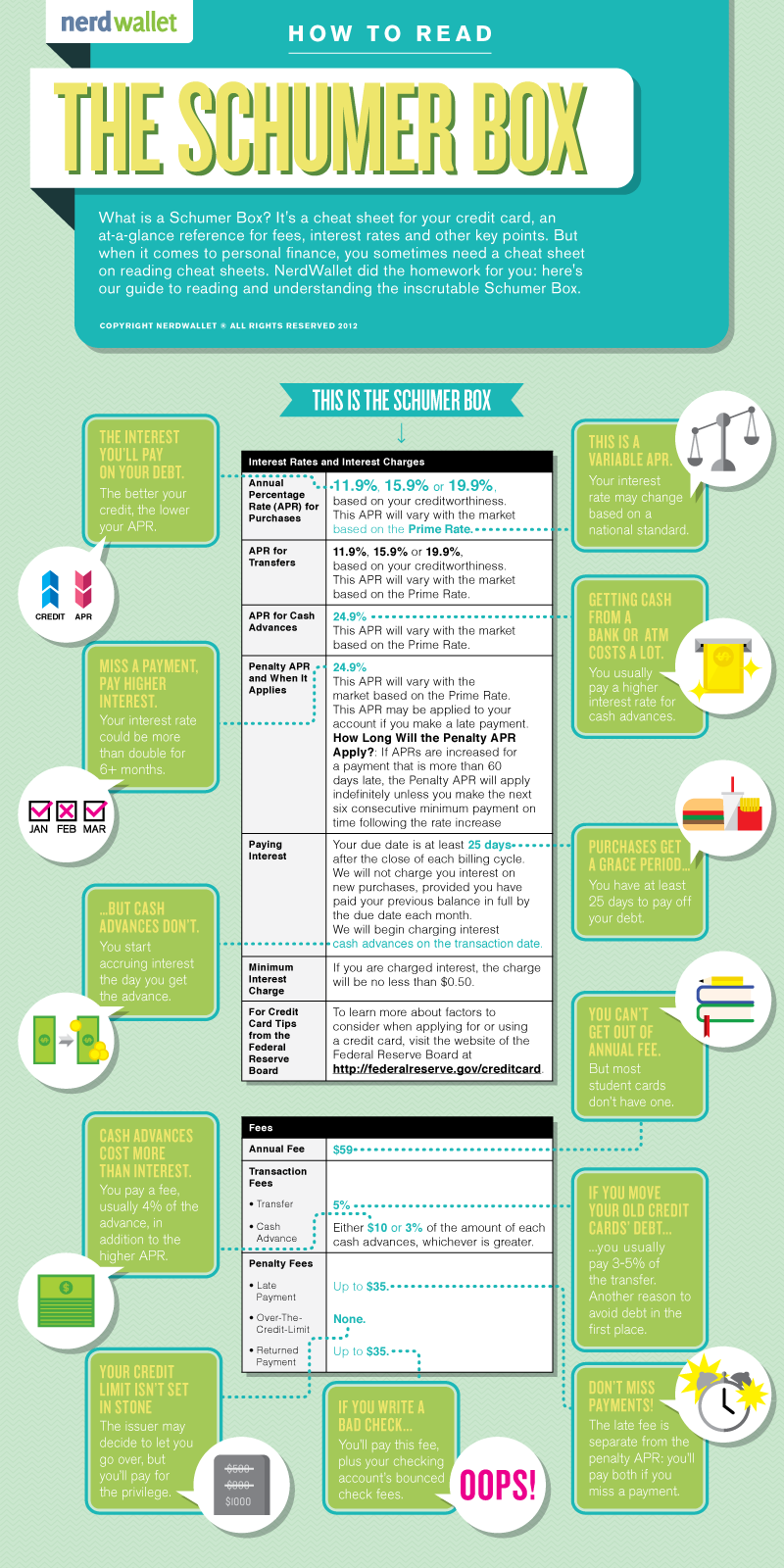 Via: NerdWallet
The syntactic ambiguity in the announcement however was unintentional. A spokesperson for the group (Known as the Innovative Lending Platform Association) said that the SMART Box will indeed include Annual Percentage Rates.
But that's where loans are concerned…
When deBanked asked about merchant cash advances, Daniel Gorfine, vice president and associate general counsel of OnDeck; Parris Sanz, Chief Legal Officer of CAN Capital and Azba Habib, assistant general counsel of Kabbage, submitted the following joint response:
"As part of the SMART Box initiative, we are interested in engaging with providers of MCA products. Based on consistent assumptions about a small business's future sales volumes and its ability to deliver the contracted amount of receivables within the period of time estimated during underwriting, the SMART Box could apply to MCA products."
So long as SMART Box disclosure is voluntary, an MCA company could perhaps employ their own version of it. It just might come sans APR given the product's history with state regulations. The Association is emphatic however that this concept could be used by MCA companies and others in the small business financing space. After all, the initiative is rooted in transparency for the small business owner, they say.
In September, the Association "will encourage those interested in promoting the responsible development of the small business lending industry to voluntarily adopt or support the model disclosure."
Given the level of influence these companies have on the industry, the voluntary nature of the SMART Box has the potential to spark an industry-wide box revolution. MCA companies however would need to structure transparent disclosure around their contractual frameworks. But even that could be a good thing. One commercial financing broker for example, posted a redacted service fee agreement to the DailyFunder forum earlier this week that purported to show another broker trying to charge a merchant a 26% premium (26% of the funding amount) for their work. Despite this unusually high cost, the charge itself was hard to find, hidden among fine print on an otherwise benign looking page. Naturally, others in the industry did not respond kindly to it. Even other brokers referred to it as "outrageous," "nonsense," or "bs."
Their reactions make clear that there is a desire for transparency even among the group most often blamed for the lack thereof. Some of the industry's forward thinkers have told deBanked that a system like a SMART Box is the future of the industry whether one agrees with it or not. And if not for the sake of small businesses and regulators, then for the sake of being able to compete fairly against companies that may be relying on truly hidden fees.
SMART Box. All aboard the transparency train?
December 4, 2015
To this day, I still have no idea who The National Sales Executive Association is, such as what they do, where they're located and how long they have been in existence (if they even exist at all). But a couple of years ago, I read a quote that was supposedly from this organization, that went as follows:
Follow Up
48% of sales people never follow up with a prospect after the first attempt
25% of sales people make two attempts with a prospect and stop
12% of sales people make three attempts with a prospect and stop
10% of sales people make more than three attempts with a prospect
When Sales Are Made
2% of sales are made on the first call
3% of sales are made on the second call
5% of sales are made on the third call
10% of sales are made on the fourth call
80% of sales are made on the fifth – twelfth calls
From these statistics, we could conclude that 10% of sales people pick up 80% of the sales, due largely to the fact that they initiate five or more call attempts to the prospective client in particular.
While I have no idea who The National Sales Executive Association is, over my time in B2B sales, I can surely say that giving the merchant more time to respond to you surely works. Matter of fact, 2% is very generous, I think that less than 1% of my "closes" have been on the first call attempt and over 90% of my "closes" have come from making at least 5 attempts through either telephone or email.
OUT OF TOUCH SALES MANAGERS
One of the main reasons I have only participated in the profession of Sales on an independent basis, is mainly so that I can contain 100% creative, strategic and operational control, and not be subject to out of touch Sales Managers.
The fact is that far too many Sales Managers are just out of touch, either they will have their team using outdated marketing tactics such as calling UCCs, Aged Leads, or random listings out of the Yellow Pages, or they might have their team selling inefficient products. In terms of inefficient products, they might have their reps trying to push 1.30 factored rated advances on A Paper clients in the age of Lending Club and other A Paper lenders filling up the merchant's mailbox, email and voicemail with A Paper offers.
But if these two aspects weren't bad enough, far too many Sales Managers also have a very impatient disposition when it comes to the B2B sales cycle. Far too often, they will set B2B sales quotas either by the day, the week, or the month, rather than by the quarter or the year, as they should be set.
The bottom line is that sometimes it just takes a merchant longer than usual to move forward, which while it surely delays the sales cycle, it doesn't mean that the merchant is disinterested or trying to pull your chain, sometimes there's just legitimate delays in the B2B sales cycle.
THE REALITY OF THE B2B SALES CYCLE
Far too many Sales Managers are just out of touch, as they still believe in the mythical smooth walking, talking and overly charismatic sales guy who can sell fire to Hell. According to these types of Sales Managers, you should be able to get all of your applications within the first call or within the first week of speaking with a merchant, and if you don't, then apparently you don't belong in this industry and should seek opportunities elsewhere.
How out of touch could these guys be? Have they ever in their life managed an individual B2B Sales Pipeline? In reality, here's how the deals go most of the time:
Week One
Your first attempt with the merchant is on a Monday. The merchant is interested but is very busy right now as he's about to enter his afternoon rush. He gives you his email, says to email him over information and follow up on Thursday.
You email information that Monday night and then follow up that Thursday. You get his staff member on the telephone saying he had to leave early today, but will be back on Saturday. You send him a follow up email on Thursday night.
You call back on Saturday and he answers the telephone, he confirms that he received the email but just hasn't had time to sit down and take a look over everything. Says to follow up with him this Monday at 2:00 p.m. before his afternoon rush.
Week Two
You call back that Monday, he says he has a good 5 minutes to talk and before you can begin speaking, he immediately begins a long discourse. He talks about how he's looking at setting up this second location and how he has it all lined out, he just needs a good $100k to get the second location up and running. His bank hasn't been that much of a help for this project and he reviewed your email, he likes the premium estimated price ranges that you have listed with up to 24 month terms. You begin to ask him some questions to properly pre-qualify him, you discover that he's an A Paper client and you estimate that you can get him approved for the $100k over 24 months that he's interested in. You go over the documentation needed to get started and the estimated timeframe until funding completion. He says that sounds great and to email everything you need from him by email tonight, and he'll work on getting that back to you as soon as he gets back to his home office tonight.
You email him that Monday night with items needed to move forward. Tuesday, Wednesday and Thursday go by, you don't hear anything from him.
You follow up with him on Friday and his staff member says he's not there but he will indeed be back on Monday. You leave a message for him with his staff member as well as send him a follow up email that Friday afternoon.
Week Three
You call back on that Monday, his staff member says he is available and goes to bring him on the telephone. He gets on the telephone and says he's been working on the items this morning and will fax them shortly. He asks for your fax line once again.
On Wednesday morning, you get a fax from him with only partial items of the application package, such as only 2 pages of your 3 page application, and only 2 months of bank statements even though you requested 3 months. You call him that Wednesday afternoon to confirm receipt and request the additional items that were missing. He says he will get that right over to you here shortly.
Thursday and Friday go by, you receive no additional items. You send him a follow up email on Friday night about the additional items.
Week Four
You follow up with him that Monday to touch base for the additional items, he gets that over to you by fax that afternoon, now giving you a completed application package. Now you have a completed application package, or what is referred to as a "close", but that took four weeks of follow up which included 8 follow up calls and numerous emails.
SOMETIMES IT COULD TAKE 6 MONTHS OR MORE
This was just one example of where it took four weeks to get a completed application package, however, sometimes it could take up to 6 months for me to receive a completed application package from a merchant due to various reasons.
Some of the reasons include: waiting for an existing balance to come down, waiting for a tax lien payment plan to get finalized, waiting for a bankruptcy discharge, waiting for NSFs to come down, the merchant running into a family emergency, or the project for which the merchant needed funding gets put on hold in some way.
SOMETIMES THE MERCHANT JUST NEEDS MORE TIME, DON'T QUIT SO EARLY
This is why any B2B sales quota that's measured on a daily, weekly or monthly basis is completely and utterly insane. B2B sales cycles can take longer and are usually more complex than B2C sales cycles which involve fewer decision makers, lower dollar exchanges and usually less complex solutions.
This is why Sales Managers and Agents alike should be more patient when it comes to the B2B sales cycle. On a daily basis, the focus should just be on continuing to grow your B2B Sales Pipeline as well as follow up on said B2B Sales Pipeline through telephone calls, email, mail and social media. You would then begin to receive emails, faxes and mailings with various application packages from members of your B2B Sales pipelines at random times of the day and night.
You should judge the effectiveness of your process on more of a quarterly or annual basis, rather than daily, weekly, or monthly, as sometimes the merchant just needs more time.
Don't quit so early.
February 20, 2020
Patreon, the membership platform that provides payment and subscription services for creators, will now start funding those artists that are on its site through Patreon Capital. Said to be modeled after Shopify Capital, the service will be available to certain creators initially, with Patreon reaching out directly to them to offer merchant cash advances.
The move comes after CEO Jack Conte had been quoted in January saying that "The reality is Patreon needs to build new businesses and new services and new revenue lines in order to build a sustainable business."
It seems like this new service is part of a trend that has overtaken tech companies recently, best exemplified by the Apple Card, wherein established players, worried about longevity, are moving further into financial services, hoping to get long-lasting hooks into their customers.
Historically, Patreon has made money by taking a 5% cut from the subscription payments made to artists on its platform, with a further 5% going towards covering transaction fees, and the remaining 90% being left for the artist, who retains complete ownership of their work. It currently has over 100,000 creators on its site and over three million active monthly users. Contributions begin at $1, with content being unlocked in exchange for payment. Thus far, Patreon has paid out over $1 billion.
It has been reported that about a dozen deals have been made between creators and Patreon Capital so far. Hot Pod News ran a story featuring one such case, in which Multitude, a Brooklyn-based podcast studio, disclosed that it took funding of $75,000 over two years in order to pay the SAG-AFTRA rates of the actors it wanted to employ for a new audio sitcom titled Next Stop.
"We were running into this problem where we have a ton of great ideas, but because we're a small business, we constantly have to decide between putting money towards paying our people and getting more equipment versus saving it up for a bigger project," Multitude's CEO, Amanda McLoughlin, told Hot Pod.
The premium attached to the financing was not revealed, however Multitude did note that the revenues of one of the studio's other shows, Join the Party, would be taken as collateral if Next Stop is not profitable enough to pay the premium after two years.
"This arrangement is directly tied to the fact that we have successful podcasts making money on Patreon, and that we've already invested in the Patreon system to pay this stuff back," comment Eric Silver, Multitude's Head of Creative, underlining how Patreon Capital is linked with the analytics of Patreon's base service. Much like how Amazon uses sales metrics and user data to gauge which retailers to lend to on its own marketplace, Patreon appears to be making use of seven years of data on its creators to determine who is best positioned to receive funding.
"Patreon has access to all the data about a creator's earnings history, what they offer as benefits, how much they engage with their patrons … everything needed to forecast their earnings and retention, without a creator even needing to submit an application." Patreon VP of Finance Carlos Cabrero stated. "This would be essentially impossible for a bank to replicate."
December 1, 2019
According to the latest statistics, there were 1.18 million employer businesses in Canada, with the majority of them located in the provinces of Ontario and Quebec.

1.15 million (97.9%) represented small businesses
21.926 (1.9%) referred to medium-sized ventures
Only 2.939 (0.2%) accounted for large corporations
Small and medium companies are blooming in Canada: they represent 99.8% of all businesses, and they are the heart of the local economy. However, these businesses are facing extreme challenges when it comes to raising capital – a crucial element of SME growth.
The Canadian banking sphere, dominated by five large banks, often overlooks these businesses. Banks in Canada typically require 32 articles of information when applying for a loan and still 78% of applications from SMEs are rejected. It is especially stressful for startups: you can't get a loan unless you have customers, but you can't start your business and get customers without a loan. Cash flow, on the whole, is a complex concept that may be confusing for small business owners, and this kind of financial exclusion only makes it worse. The problem is global, but this Catch-22 has given the green light to alternative lenders worldwide.
THE ALTERNATIVE
One of the alternative funding options for SMEs to bypass the banks and find the right level of capital that they need is called a merchant cash advance (MCA). MCAs aren't loans. Instead, they represent the sale of a business's future revenues in exchange for quick cash — the majority of applications are approved within 2 days. This way, a funder provides a lump sum payment with a predetermined percentage (the factor rate) of a merchant's future credit or debit card sales — cash and check sales typically don't qualify to be counted. The process goes on until the contractual terms are satisfied. The MCA industry is growing on Canadian soil, but since it is a relatively new domain, the sector remains heavily influenced by American providers, especially when it comes to business models and pricing. But domestic providers don't see it as a threat. Bruce Marshall, VP of British Columbia-based Company Capital told deBanked in 2016 that "We are happy that some of the bigger US players are coming up here and they are spending millions of dollars on advertising. These companies raise awareness of the industry to a higher level and with us being a smaller company, we can ride on their coattails."
The question of raising awareness of new technology is vital. In comparison to American SME owners, their Canadian colleagues are slower to adopt technology — for instance, only 27% say they currently use technology to analyze customer data. Another study by BDC claims that only 19% of Canadian businesses are digitally advanced.
On the other side, those established companies find the Canadian alternative lending market to be "a very manageable extension of the US market." However, it's a smaller market, and Canada's geographical position (the majority of businesses are located in four main provinces out of thirteen) and regional differences play their part as well. For instance, because of the restrictions that require businesses to advertise and produce marketing materials in French, the majority of alternative lenders from the US don't operate in Quebec.
RATES, COSTS, AND FIGURES
All in all, MCAs are slowly becoming a financing option for Canadian SMEs looking for quick cash. That "slowness" comes from a lack of understanding about how exactly merchant cash advances work. Some alternative funders take advantage of their non-bank status to neglect regulations that require clarity resulting in somewhat unethical lending practices. Because of this, a certain number of business owners still hesitate to take a chance on a merchant cash advance program.
MCAs in Canada are generally available to businesses that have a steady volume of credit card sales, such as retail stores or restaurants. The amount of personal and business information required when applying for an MCA is much lower in comparison to a regular bank loan application: the documentation generally includes proof of identity, bank statements, and business tax returns. Merchant cash advance rates and costs differ from provider to provider. As MCAs aren't loans, there are no fixed amounts for repayment installments and no fixed terms either. Typically, the percentage of credit card sales taken to enable the transaction ranges from 5 to 10%. Some companies in Canada charge premiums on their cash advances (which can be as high as 30% or even more.)
THE CHALLENGE
The main challenge for Canadian MCA providers is the absence of reliable data necessary for making underwriting decisions. As previously mentioned, only a small group of large financial institutions dominate the market, so the data is available solely to a handful of businesses. The information obtained from credit bureaus doesn't help either: in most cases, it isn't complete for making a wise credit decision. "The availability and access to government and financial data are scarce in Canada compared to other markets," said Jeff Mitelman, the former CEO of Thinking Capital in an interview with deBanked in a past interview. "Most of the data relationships that fintech companies rely on, need to be developed on a one-to-one basis and is often proprietary information."
When it comes to the process of underwriting, the availability of data presented in the proper format is a crucial factor. It provides the full picture and saves an enormous amount of time for risk officers. "We pay a lot of attention to our underwriting and decision-making process because if we make a mistake, we can lose a lot of money," Andrew D'Souza, the CEO of Clearbanc, told TechCrunch.
At the moment, the financial data available to Canadian alternative lenders is meager and needs improvement. Another issue is the legislation that varies with each province. Many alternative lenders find the Canadian rules and regulations that govern the industry rather unclear. However, those challenges are associated with a growing market and emerging ecosystem. One way or another, the business loan landscape has changed for good, and alternative financing methods have captured much attention, with giants like PayPal stepping in the game.
THE NEXT STEP
As the industry is new, and has lots of challenges, the banking sphere and fintechs are turning to partnerships accelerating online lending to small business members. It makes perfect sense to MCA providers to license their automated platforms, banks, and credit unions. Traditional players are familiar with regulations and have data for fine-tuned underwriting, while fintech providers bring innovative technology and customer experience. "We saw that Canada is ripe for technology but the differences in regulation among other things made us go the partner route," said Peter Steger, the head of business development at Kabbage, to deBanked – a perfect illustration of the growing partnership trend. These mutual interests create a lot of business opportunities, and that's a good sign for all parties involved.
When small business owners need financing, timing is essential. Small and medium businesses are vital to the Canadian economy, so for them, the proper financial support means fast and convenient access to credit. In the new fintech-driven reality, applications should be completed within thirty minutes, decisions made within hours, and funds deposited in the applicant's bank account within days. Canadian small businesses contribute around 30% of the total GDP, so the need for simple finance is acute. The technology has already made small business lending more accessible, and over time, financing alternatives such as MCA will become mainstream.
January 8, 2017
My name is Justin Dickerson. For most of 2016, I was the Chief Data Scientist at Snap Advances (Snap), a funding company of merchant cash advances based in Salt Lake City, Utah. I can't discuss my awesome work at Snap for obvious reasons. And fortunately, I don't need to in order to make the key points I want to convey through this article. That's because I've also been a senior level data scientist at two other companies, and I'm also a well-regarded statistician who holds one of the most prestigious credentials offered by the American Statistical Association.
One discovery over the past year prompted me to start collecting my thoughts for this article. I was looking at the financial performance of On Deck Capital (the largest company in the alternative fintech industry which is also publicly traded) through the first nine months of 2016 relative to the same period in 2015. Gross revenue increased more than $22 million while net income for the same period fell nearly $50 million. I'm not an accountant, but that doesn't sound good to me. And let's face it, this fact doesn't surprise anyone in our industry, especially given what's happening at CAN Capital. But one interesting and overlooked fact is worth considering. According to my Linkedin search, there were between 30 and 40 data scientists (all levels) working for On Deck Capital during the same time period in which they lost $50 million. So, not only does On Deck Capital lose a lot of money, it appears they need a lot of intellectual horsepower to figure out how to do so.
And here we are today. We're looking at an industry full of companies trying to navigate the abyss of hyper-aggressive originators and spiraling default rates. If you're a Chief Data Scientist for one of these companies, you're undoubtedly feeling the heat from your management team. The problem is simple. How do you grow your business (or even stabilize it) in an environment where you have to take too many uncomfortable risks? We'll ignore the fact this question has plagued much larger industries for many years (e.g., trying to compete against Wal Mart in the retail space). Boards of Directors in alternative fintech have short memories and believe this is a unique problem to their industry and era. As a result, data scientists are at a premium as they're seen as key players in how to resolve this crisis and steer their companies to safe harbors. Well, here is my opinion. They're dead wrong, and here is why.
Data Scientists Are Tactical, not Strategic
This statement may end up being the most controversial thing said in the data science industry this year. But let me make my case. Of those 30-40 data scientists working for On Deck Capital, more than 80% of them have a Master's degree in a field of study synonymous with data science. Specifically, many of them attended Columbia University's Master's degree program in Operations Research. The four required courses for that degree are: Optimization Models and Methods, Introduction to Probability and Statistics, Stochastic Models, and Simulation. From there, students can choose from one of six concentrations (all but one of which are targeted toward quantitative methods). Further, students selected for this program already have highly refined quantitative skills as demonstrated by the pre-requisite courses for admission (e.g., multivariate calculus, linear algebra, etc.). So, in essence, the program takes really smart quantitative people (quants) and makes them even smarter quants, while sprinkling in 6 elective courses which may or may not provide an opportunity to learn something about the "real" world of business.
Make no mistake, the students attracted to programs such as these generally aren't the professionals you send to meet with investors and pitch them on new strategic directions for a company. They are the professionals who sit in cubicles and spend their days writing code. They are experts in programming languages such as R, Python, Java, Scala, and many others. Ironically, they are enslaved to similar rules which govern the same supervised machine learning algorithms they create each day. They aren't allowed to "get out of the box" and see the "forest through the trees." If I'm portraying them as a bit robotic, that's intentional on my part.
I don't want to leave the impression data scientists can't think for themselves. Specifically, those who earn a PhD are known to have such skills and are often praised for their abilities to rise above the technical chains of their existence and offer strategic direction to an organization. But they are few and far between in the data science factory found deep in the bowels of companies like On Deck Capital. Instead, more and more alternative fintech companies seek out the same "cookie-cutter" data scientist who can check off the same boxes on the hiring list. This means the data scientist role is relegated to a part of the company lacking diversity of thought, creativity, and the organizational respect needed to save a company from itself.
The Law of Diminishing Returns
One of the most intelligent questions asked of me within the alternative fintech industry was, "do we really have enough data to justify so many data scientists?" As a Chief Data Scientist, you always want to answer that question with an emphatic, "YES!" Even better, you may tell your management team you need even more data scientists to make a "real and lasting contribution to the company." After all, the existence of your team depends on it. But when you're away from the management team and thinking about the structure of your department, the honest Chief Data Scientist knows the company is at risk of experiencing the law of diminishing returns.
All of us can recognize the law of diminishing returns from our freshman year Economics course. In short, it's the concept of achieving less than a one to one relationship between an additional unit of input relative to the resulting measured output. For example, the reduction in default rate for a financial product is hardly ever proportional to the number of data scientists employed by the company to predict default rates. In fact, I would argue once you have more than two or three data scientists, even the largest organizations would have a difficult time justifying the payroll investment based on proportional gains in default rate management.
So, why do companies like On Deck Capital have so many data scientists? I believe it's more akin to the comfort food we all like to eat in the winter. There is hardly anything as satisfying as my grandmother's homemade chili during a cold Utah night. And the more of it I get, the warmer I feel! The problem is the chill of winter eventually fades and the light of day shone on financial statements eventually begs the question of whether we've simply eaten too much.
Make no mistake, NO organization needs endless amounts of data scientists to be successful. In fact, I would argue two or three excellent data scientists armed with superior data science/machine learning platform technology such as those offered by IBM, Microsoft, or DataRobot is more than enough to guide an organization to success. The key when thinking about staffing a data science department is to think in terms of credibility. If I have three data scientists each armed with PhD training, 15 years of industry experience, and the tools (such as a great machine learning platform) to do the mundane parts of data science usually done by legions of Master's degree data scientists, am I more credible in the organization than I am with 30 quants who all grew up in an economy where nothing bad ever happened to financial institutions? If you want your data scientists to help your organization, you've got to be willing to let them into the board room and present digestible recommendations for action. So the question becomes, do I have a team that is credible enough to meet such a standard?
The Supremacy of Domain Expertise
I learned a lot during my time as a Chief Data Scientist. Since leaving Snap, I've established two companies. The first is Crossfold Analytics. This is my data science consulting company. We only serve the fintech industry and we spend most of our time building real-time machine learning prediction services for small to mid-sized fintech companies. And I think we're darn good at it! The second company is Crossfold Capital. This is my independent sales organization (ISO) focusing on merchant cash advance, business loan, and factoring products. It was when I established Crossfold Capital that I learned the most valuable lesson of all about data science in alternative fintech. Nothing will ever replace the experience of working in the trenches of the business (what I call "domain" expertise). In alternative fintech, this is generally working within the trenches of a sales organization. If I could go back in time and start over as Chief Data Scientist at Snap, I would start my job by underwriting files and selling merchant cash advances for a month. Absolutely nothing I learned in math, statistics, or any quantitative subject can replace what I've learned running my own ISO in just the past two months. I wish every alternative fintech company would adopt a training program for data scientists that allowed them to spend their first month in the field calling on clients and working with potential customers. If you understand the business, you can bring immeasurable value to your company by blending that understanding with your technical skills as a data scientist. I truly believe such an approach could take the power of a data scientist and magnify it three-fold. Otherwise, you end up having a rogue department of quants that people in the trenches of the business either don't understand or don't trust.
My Recommendation to Alternative Fintech Companies
Based on what I've learned as an alternative fintech data science professional, I would make three recommendations to all companies in our industry. First, hire diverse talent. It's imperative a data scientist knows enough about coding to be effective at building predictive models. But I would trade extensive coding expertise for a data scientist who also had a Bachelor's or Master's degree in business administration. We don't need an army of robots in data science. We need gifted thinkers who also happen to have advanced technical skills. Second, don't "over-eat" even though it can be cold outside. More data scientists aren't going to solve your problems. In fact, hiring the same type of data scientist only encourages "group-think" which can actually be very detrimental to your organization. Focus on building a credible data science department, not a massive data science department. Finally, put your smartest people in the dirt of the business. Have them spend a week underwriting files. Then send them to sell your products with one of your ISO managers. Don't treat your data scientists as fragile figurines. As a good friend of mine from Texas says about his gun collection, "they may be worth a lot, but they're so dirty from hunting you wouldn't know it!"
I hope my confessions help your organization navigate both fair seas and choppy water.
Found on DailyFunder:

06-10-2020
See Post...
premium merchant funding

., , hello michael,, as i mentioned on our first call when you inquired about working for us; we do not require you to purchase your own leads. however many mca reps are always searching for the best leads and they are not ...
06-10-2020
See Post...
premium merchant funding

is based out of manhattan and is a larger firm. bmf is a funder based out of brooklyn who focus on high risk deals....
05-17-2020
Buy own leads at ISO shop?...
premium merchant funding

....